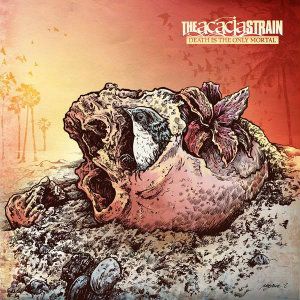 Release Date: October 9th, 2012
Label: Rise Records
Website: www.theacaciastrain.com
Facebook: www.facebook.com/theacaciastrain
Twitter: www.twitter.com/theacaciastrain
Rating:

Reliably misanthropic and with a venomous streak that would put most heavy hitters in the shade, one goes into an The Acacia Strain record with certain expectations already firmly cemented. Although, with the band recently jumping ship to Rise Records, a label known equally for sugary chorus hooks than thuggish breakdowns, a shred of unease began to seep into the release of 'Death Is The Only Mortal'. Would the band's brutish attack be somewhat compromised by this switch?
As opener 'Doomblade' hits, however, all dissonant guitar lines and crawling, sludgy chord stabs, it's clear that the answer is a resounding no. Although delivering much of the same, The Acacia Strain have taken steps to avoid stagnation with some subtle additions which sit comfortably beside the chug-a-lug brutality, whether it be the nifty guitar lead in the clamberingly sinister 'Brain Dead', or the danceable pace of 'Dust And The Helix'.
Yet, as the record progresses, it becomes rather apparent that these little hints of variation are severely under-employed. The lumbering gait and repetetive open string pummeling quickly looses its impact and dissolves into tedium, and whilst the riffs are as abrasive as could be asked for, the tracks are for the most part lacking any lasting substance. When the band do find a sweet spot however, at points here they're as punishing as they have ever been. The swinging grooves of 'Go To Sleep' or 'The Chambers Nautilus' relentless swing for example are just irresistably fun.
'Death Is The Only Mortal' will certainly not be altering any opinions of The Acacia Strain. For long-time fans, the album serves up a welcome dollop of Massachusetts flavour brutality. For anyone else, the Meshuggah baiting drudgery and unflinchingly mid-tempo battery will all too soon become a chore to sit through, with highlights dissapointingly too few and far between. Perhaps the band stuck just a little too close to the formula with this one.
Written by Tony Bliss
Founder & Editor for DEAD PRESS!