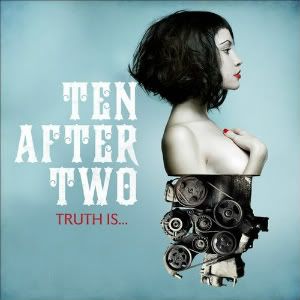 Release Date: March 29th, 2011
Label: Rise Records
Website: None available
MySpace: www.myspace.com/tenaftertwo
Rating:


Despite only being a band for two years, Ten After Two have produced an album of admirale quality and style. They have managed a feat that many bands are failing to do at the moment, they dip in and out of different musical styles without it ever sounding too forced or contrived.
'Truth Is…' is an album that is rammed to the seams with angular riffs, fist pumping breakdowns that merge brilliantly with infectiously catchy vocal hooks and powerful vocals. For a band that has only been around for two years, Ten After Two have certainly nailed their sound on this album. At initial listen, it comes across as a standard post-hardcore album,; breakdowns, riffs and melody all thrown together, but after listening deeper it is much more than that, there has been some serious thought put into the song writing on this album.
There are times when the studio production threatens to overpower the songs, but never to a degree that the band wouldn't be able to replicate it in the live environment. Every single song on the album is solidly written, every track will engage you from the moment it starts until the moment it ends, and this is where this album is a winner. A lot of bands peddling their music under the 'post-hardcore' banner simply aren't interesting to listen to. A prime example of where Ten After Two stand apart is on interlude track 'Interlude In D Minor', with just guitars and a sample going on to start with, it grows and swells until the band kick in together and create a beautifully powerful bit of instrumental music. It is a great shame this is just an interlude as it could be so much more.
The variety of influences on this album are obvious to listen to, but they never stand out so much that it seems like Ten After Two are merely replicating others. Throughout the whole record there are nods towards metalcore in the riffing, bands like Taking Back Sunday and Fall Out Boy in both the vocal delivery and in the lyrics, and in some instances the groove laden riffs and breakdown give a nod to hardcore/southern rock bands such as Maylene And The Sons Of Disaster.
A massive mention has to go to vocalist Sean Wall. His voice stretches from a deep growl on some songs to a soaring powerhouse on others. When bands aim for a melodic, clean vocal style in between heavy sections of songs it often doesn't work, but because of Wall's brilliant voice, Ten After Two can pull it off brilliantly.
This album is a fantastic slice of post-hardcore and has enough variety throughout it to appeal to both fans of hardcore bands all the way to fans of Fall Out Boy and A Day To Remember. Where bands such as Design The Skyline try to mix up genres and fail, Ten After Two have succeeded completely.
Written by Josh Peett