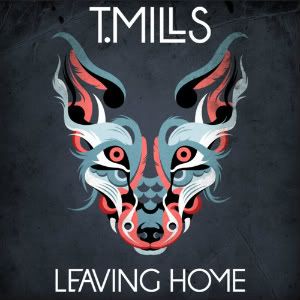 Release Date: July 22nd, 2011
Label: Columbia Records
Website: www.tmillsmusic.com
Facebook: www.facebook.com/ilovetmills
Twitter: www.twitter.com/ilovetmills
Rating:


There's something a tad cringe worthy about what would appear to be a 20-something, white, middle-class yuppie from the Golden State deciding to get some scene tattoos, flesh-tunnels and a backwards flat-peak cap and declaring himself a rapper by the name of T. Mills. It wouldn't be unfair to guess that the T probably stands for some embarrassingly high-society title like Theodore-Banks or Trumpathore the Third, although in this case it simply stands for Travis. After debut album 'Ready, Fire, Aim!', it became difficult to see where T. Mills' appeal was coming from – could anyone really bare to listen to the alleged sexual-domination of a wannabe-hood rat?
The answer was "yes", enough people to justify getting signed to Columbia Records and producing a sophomore record. So the new question is; does 'Leaving Home' present anything that could actually provide Mills with some musical credibility? Once again, the answer is "yes", there are actually some listenable tracks on this record, which all still present the unwarranted narcissism of (almost all) rappers' egos, but make for catchy singles and danceable club tunes.
The album opener 'Oh Just Like Me' wastes no time in introducing the listener to T's style; think Cobra Starship's Gabe Saporta meets Lil Wayne – raps dirtier than your incontinent grandad's boxer-shorts, meet choruses sassier than your local MacDonalds server Shaniqua. This track falls a little short of the mark, but is followed up by lead single 'Fuck Em (With My Vans On)', which – absurd title aside – has the contagious hook "They don't know a thing about us", that will string you out like a heroin addict in Trainspotting. Mills' flow is admirable, but his lyrics and cultural references just don't match the profile. It's not the fact that he's a baby-faced WASP, because Eminem had no issue becoming one of the greatest rappers of his generation with this physical appearance. The key difference is background; imagine a Warwick University student singing "I don't treat 'em / I don't love 'em / I fuck 'em with my Vans on / They calling me a bad motherfucker, yeah". It doesn't feel natural. Mills is however a decent wordsmith, and much like his contemporary, Chiddy Bang, he doesn't shy away from a comical pun ("I Mac a whore / My nickname should be 'Apple Store'").
'Can't Take Ur Eyes Off Me' is the epitome of pop-rap, similar to a Gym Class Heroes song – watered down beats, cheap synths and the story of a woman longing after the protagonist, in this case Mills. 'Hollywood' is a nice respite from the forceful tones of the other songs, a hark back to the days where a man could romance a woman without being misogynistic. 'Pillow Talk' only deserves mention because of the genius irony of the title, which one hopes was intended. Mills is far from a smooth-talker, with lines like "the past is practice for what we have is".
What T. Mills provides is an unadulterated Justin Bieber. As if one wasn't enough for the world, T. Mills is a more edgy version of the young superstar, with a far more x-rated message, almost like an alter-ego. The result of which is still a bunch of screaming teenage fan-girls, but slightly more punch than ol' Biebs. It's sad to say, this is what pop music is nowadays.
Written by Ramsey Marwan
Founder & Editor for DEAD PRESS! | Atheist and antitheist. | Judge of the quick & the dead since 1989.