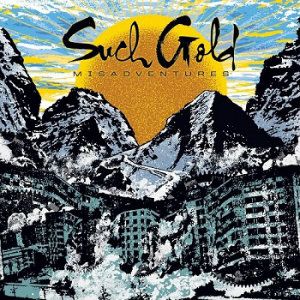 Release Date: August 14th, 2012
Label: Razor & Tie
Website: www.suchgold.com
Facebook: www.facebook.com/suchgold
Twitter: www.twitter.com/suchgold
Rating:


With a couple of EPs under their belt, the path was clear for New York punk rockers Such Gold to release a hotly anticipated full-length album, 'Misadventures'. It's a record that is fairly short at just over 28 minutes long, but it's one that is packed full of enough angst and aggression to satisfy any listener. Undoubtedly living up to expectations and showing off each band members' talent throughout.
Opener 'Two Year Plan' sets the tone of the record, since most songs are fairly short but are full of technical guitar work, furious drumming and a raucous vocal performance that grabs you by the throat and won't let go. Instrumentally, this band are very impressive, since the vocal style is fairly similar throughout (though does include some clean vocals on 'Storyteller' and 'Tell Yourself'). To ensure each track doesn't sound the same, it must be altered musically.
This is a task that Nate Derby and Skylar Sarkis take upon themselves to complete, and they do successfully. 'Storyteller' sees a change in the rhythm of the track aided by Devan Bentley on drums, 'Keyhole M.O.' sees the technical guitar work come to the forefront and closing track 'You Are Your Greatest Threat (The Doctor Will Serve You Now)' takes an overall more melodic approach to the track. It's this diversity that is much needed as the screams of front man Ben Kotin are no doubt impressive and crucial for maintaining the level of intensity the band desires. However, they can cause tracks to sound the same.
For a debut full-length, 'Misadventures' is impressive. It keeps up a level of ferocity that will keep listeners intrigued but still manages to provide some diversity within that. Each song is forceful and packed with adrenaline that will no doubt cause countless pits to explode at live shows. Pushing this variety within their songs a little further could help Such Gold in the future, but for now, they're still pretty damn impressive.
Written by Jonathon Barlow