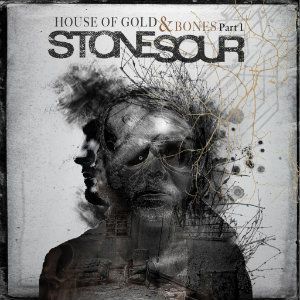 Release Date: October 22nd, 2012
Label: Roadrunner Records
Website: www.stonesour.com
Facebook: www.facebook.com/stonesour
Twitter: www.twitter.com/wearestonesour
Rating:


With frontman Corey Taylor proclaiming early on that the first installment of the 'House Of Gold & Bones' double would be a blend of Pink Floyd's 'The Wall' and Alice In Chains' 'Dirt', it was clear that the band held some rather lofty aspirations as to where they could take their somewhat vanilla melodic rock.
Yet, whilst these comparisons do indeed prove to be far too grand for an album which doesn't drastically stray from the band's previous work, the overtly upbeat flavour here, coupled with a welcome injection of aggression, sees Stone Sour deliver their most infectious and hard hitting record perhaps since their debut.
The opening one-two punch of 'Gone Sovereign' and 'Absolute Zero' is certainly a treat for long time fans, with both serving up vintage Taylor/Root crunching grooves and chorus hooks (not to mention some quite staggering guitar leads which could easily slot into any classic Megadeth track).
From here on, there are minimal surprises. 'The Travelers – Part 1' is a 'Bother'-eque acoustic number, all lush orchestration and delicate crooning, before 'Tired' ups the ante with some sugary guitar harmonies and a rather majestic, progressive ambience, marking arguably the most ambitious track the band has ever written. For many, it's maybe a shame that the quintet didn't explore this more enterprising route further, yet with the drivingly tuneful 'My Name Is Allen' and a particularly venomous closer with 'Last Of The Real' heaping on the fun in spades, we realize that with tracks as strong as this, it's easy to forgive.
With some very occasional progressivisms and a vague sense that Stone Sour are slowly becoming more than your stock unit shifting rockers, 'House Of Gold & Bones – Part 1' is a release which should, with any luck, merely hint at things to come. With the next half of the puzzle due out next year, there's promise of something truly special. For now, a slab of highly enjoyable, yet largely conventional Stone Sour will do.
Written by Tony Bliss