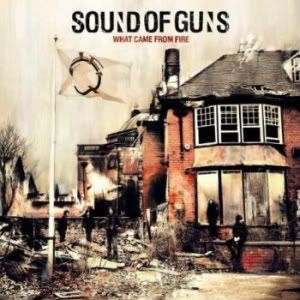 Release Date: June 28th, 2010
Label: Distiller Records
Website: None available
MySpace: www.myspace.com/soundofguns
Rating:

Hailing from Liverpool, alternative rockers Sound Of Guns have managed to collect and package their hard worked material into the 11-track debut album 'What Came From Fire'; a solid original effort showing they deserve every bit of praise they are getting at the moment, with even big dogs like Zane Lowe helping to feed the buzz they've got.
Opener 'Architects' is a catchy well produced track that will make you want to sing-a-long and nod your head along to the beat, and sets a very high standard for what's to follow. However, Sound Of Guns continue to thrill and excite. 'Alcatraz' and 'Bullet In The Bloodstream' repeat the same formula, and rely on catchy lyrics and sing-a-long choruses to keep attention strong. The use of strong power chords and catchy melodic vocals are melded together to create their original yet commercial sound and style.
'106 (Still The Words)' is a slightly longer more melodic sounding track, which deviates slightly from the lyrical style of the rest of the album, but this is not to say the quality is any different. Final track 'Starts With An End' finishes the album off nicely with a chilled but powerful vibe, that's sure to stick in your head and almost literally force you to shove this record on repeat for weeks to follow.
Sound Of Guns seem to have got every detail just right to create a quality debut record. Old fans will be impressed with this and it will definitely fetch in lots of new ones as the band continue to improve and deliver. Overall 'What Came From Fire' is original, exciting and exceeds many expectations.
Written by Thomas Butcher