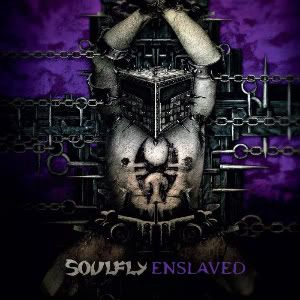 Release Date: March 13th, 2012
Label: Roadrunner Records
Website: www.soulfly.com
Facebook: www.facebook.com/soulfly
Twitter: www.twitter.com/soulflytribe
Rating:


Yes, Soulfly are still around. And yes, Soulfly are still going strong. Their eighth album, and first with new bassist Tony Campos (Static-X, Asesino, Prong and Ministry) and new drummer David Kinkade (Borknagar) comes in the form of 'Enslaved'. If you were to think of Soulfly, the first thing that would spring to mind is probably 'Jumpdafuckup', the nu-metal anthem from 2000's 'Primitive'. To think that Soulfly still sound like that though would be a grave misjudgement.
Sure, there's still the middle-finger-to-the-government attitude, but there are many other ingredients thrown into the mix; take for one the down-tuned chugging of death metal that has reared its warty head on the more recent releases. No, to think of Soulfly as the same band as back then would be like thinking Pogs were still cool.
Max Cavalera is always going to have a distinct sound. If you've heard anything from Sepultura then you've got a general idea of what that is; his Brazilian roots peek through a thrash soundscape that would make him easy to identify on a metal themed 'The Voice'. It would be easy to do the same thing for years and still be popular (I'm looking at you, Megadeth). A greater challenge though is sounding fresh and interesting after what is now the fifteenth year of Soulfly.
Take 'World Scum'Cavalera's pouting over it, you'd be hard pressed to ID the band. The mere fact that Travis Ryan (vocalist for death metal band Cattle Decapitation) features on the track should indicate that things have fucking changed. It even sounds like Gorgoroth have gotten hold of it in places, with tremolo picking and blast beats giving it a surprisingly black metal sound.
Soulfly have always been a band that have a strong supporting cast. On 2010's 'Omen', it was Greg Puciato that made an appearance, and this time round it's Dez Fafara of DevilDriver fame on 'Redemption Of Man By God', which is actually one of the weaker tracks. More impressive is the lack of onslaught as the album comes to a close. Some bands can be guilty of adding filler, but when you've got songs like 'Treachery' and 'Plata o Plomo' (Brazilian fans, get your flags ready), you'd better sit the fuck up and pay attention. You've even got the closing track of 'Revengeance', which features, count 'em, THREE Cavalera spawn on it (Richie, Igor Jr. and Zyon).
While The Beatles' children are umming and ahhing about making a mark two band, Soulfly are throwing their kids in at the deep end. If you think Soulfly are just gonna go away, then you can forget it.
Written by Martin Savage