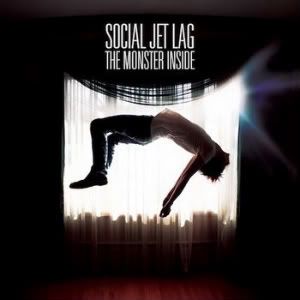 Release Date: January 18th, 2011
Label: Unsigned
Website: None available
MySpace: www.myspace.com/socialjetlag
Rating:


Since the mainstream success of Paramore, we have been assaulted with an abundance of abject attempts at female fronted bands aiming to duplicate the prosperities of the Franklin rockers. However, Alabama's Social Jet Lag have re-written the book and burst upon the scene with a sound combining moments of sheer metalcore madness with contagious pop melodies, re-defining the dynamics of bands fronted by a woman.
As this debut full-length rings into opener 'Everyone Knows A Richard', Melissa Germano instantly proves she's not just another Hayley Williams wannabe. With an almost European sounding tone to her voice, she leads the band into a strong opening, before screamer Ben Eslinger explodes in with his high pitched vocal, similar to that of Austin Carlile (Of Mice & Men).
As the album continues, venturing through a paradox of emotion and sound, unifying catchy pop hooks with stormy, venomous breakdowns, the five-piece almost juxtapose genres with catalytic effect. As the sweet vocals of Germano are layered upon brutality, each song twists and turns through a vortex of lyrical art and musical passion, spitting in the face of all the wrong people at all the perfect times, conveyed in opening lyric, "This cycle never ends, the backward motion of your thoughts keeps me hanging on". This is a record with a message, a message to all those haters, to all those who have doubted what they do, a message themed with anger, structured on envy.
It would appear the quintet have created quite a flawless record. Finding the perfect balance between addictive choruses like that in 'No Way To Die But To Be Dead Already' and 'If Water Could Burn', and moments of pure, thrashy perfection. However, what allows Social Jet Lag to stand out in a genre littered with good intentions but poor results is their 'Hollow Crown' moment if you will. Like Architects, they have written an instant, classic pop song which will be ringing around your head for days in acoustic number 'Imperfect:Beautiful'. As Germano is joined by bassist Jeremy Eslinger on vocals, proving not only the diversity but the individual talent of a band showing great promise and ambition.
Although this is a debut equal to any other within their genre, Social Jet Lag still have a lot to give. They could easily write an outstanding pop-punk record while there are signs within 'The Monster Inside' that show they could release something with the grit and intensity of a Bring Me The Horizon album. The potential they have shown has given hope to an increasingly boring genre, and could be the missing element to help push metalcore to new and unfamiliar territory.
Written by Chris Loomes
Founder & Editor for DEAD PRESS! | Atheist and antitheist. | Judge of the quick & the dead since 1989.