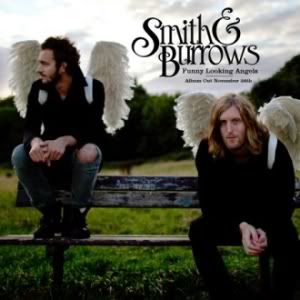 Release Date: November 28th, 2011
Label: B-Unique
Website: www.smithandburrows.co.uk
Facebook: www.facebook.com/smithandburrows
Twitter: www.twitter.com/smithandburrows
Rating:


Smith & Burrows' latest album, 'Funny Looking Angels', is a cocktail of influences – with heavily laden cries of Fleet Foxes, Belle And Sebastian and a dash of Badly Drawn Boy. This hybrid concoction is comprised of Editors' lead vocalist, Tom Smith, and Razorlight's ex-drummer, Andy Burrows.
This album is of course very much aimed toward this festive period of which we all count down to, but as this was composed in the summer, the lack of Christmas cheer is regrettably apparent. A lot of the songs build up to, what you would assume to be, an uplifting and merry crescendo – however, in more instance than not, this isn't the case.
Rife with harmony and subtle idiosyncratic blemishes the entire album is very reminiscent of the Seattle based group Fleet Foxes. The majority of the songs that we're presented with on 'Funny Looking Angels' have obviously been manifesting a store room at the Razorlight studios for some time, waiting for an excuse to be finished off, and Mr. Editors has done just that. However, with the exception of the title-track 'Funny Looking Angels' of which opens with dissonance but swiftly evolves into a more upbeat, pop number, we're left with little else to be celebratory about.
Thankfully 'It Ain't New Jersey' is a little less morose that its accompanying numbers, but was so clearly written shortly after listening to 'The Cave' by Mumford & Sons – answers on a postcard.
There really is a time and a place for albums alike this one, and doing your Christmas shopping or hosting a yuletide sauer probably isn't one of them. Its composure is delicate, and obviously to fully appreciate the craftsmanship (of which, despite this review, there is some) you have to be on your own in a small candle lit room, and who really wants to do that at Christmas?
On a more positive note, the production value is of weight and I think that the Christmas covers have been executed rather well. Anges Obel features in 'The Christmas Song', of which develops from Smith's melancholy vocals into a cover of Nat King Cole's version.
I recommend this album with a warning, to only be consumed on your own once a year due to my concern for your overall wellbeing post-funny looking angels.
Written by Ross Campbell