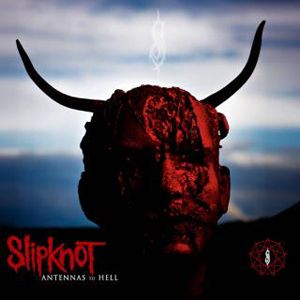 Release Date: July 23rd, 2012
Label: Roadrunner Records
Website: www.slipknot1.com
Facebook: www.facebook.com/slipknot
Twitter: www.twitter.com/slipknot
Rating:


There are a very few modern metal bands that hold with their career a history and reputation as grand, chaotic, tragic and as exciting as Iowa's Slipknot. Since their beginnings as one of the forerunners of the now practically dead nu-metal scene running right through to their now festival headlining days, their 'maggot' following is one of the strongest any band could ever hope for, and each record has documented a new chapter in the band's life, maintaining their well known face whilst keeping things new.
Now, over a decade since releasing their self-titled debut, the band have compiled all of their big hits and well known numbers into one package: 'Antennas To Hell'. Though already firm fans of the band won't find anything new on this release (at least the standard addition), for those a little behind the mark on following the 'knot this is a great entry wound into their body of work.
Compiled into chronological order, it's easy to see how the band have progressed and evolved, from the energetic and spiteful opener '(sic)' and "fuck" heavy 'Surfacing' of their debut, 'Left Behind' and 'My Plague' from their far darker sophomore effort 'Iowa', the chaotically catchy 'Duality' and soaring 'Vermillion' straight from 'Vol. 3 (The Subliminal Verses)' all the way through to the crunchy stomp of 'Psychosocial' and emotionally pinning 'Snuff'. The whole span of their capabilities as musicians along with just a few of the band's great moments are all put into this short career snapshot.
Of course, with the recent tragic loss of founding member and bassist Paul Gray, not only does this compilation act as a greatest hits, but also as a tribute to the bassist and his work as one of their principal songwriters for the length of their careers thus far. Those who invest in the more deluxe editions of the release are also treated to a second disc, containing Paul's final UK performance with the band at Download 2009.
For die-hard fans/maggots, this is an extra addition to the collection. For other maggots, this may not be worth a purchase if you have all their other records. For Slipknot newcomers, this is a great step up into their world. For Slipknot, this is a landmark in their careers which documents in just a small dose one of the biggest and most respectable modern metal bands around today.
Written by Zach Redrup