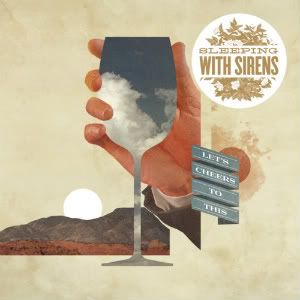 Release Date: May 10th, 2011
Label: Rise Records
Website: www.sleepingwithsirensband.com
MySpace: www.myspace.com/sleepingwithsirens
Rating:

Post-hardcore is a genre that is full to capacity at this very moment, with every niché filled and all the big name spots already taken there is very little that young bands can do, except prod around the fringes of the genre hoping for a lucky break here or there. Sleeping With Sirens' first album, 'With Ears To See And Eyes To Hear' was exactly that, they were lapping around the fringes of the genre hoping that someone would take notice of them. Their sophomore record, 'Let's Cheers To This', however, is the real deal, and will surely ensure that the band barge their way in amongst the big players of the genre.
Whilst some elements of the band's first album remain intact, it is clear that they have refined their sound into a more mature one that best displays Kellin Quinn's wide vocal range, as opposed to making him sound like the generic high pitched effeminate vocalist that is common on other such bands, like A Skylit Drive. They have also improved their song writing ability which is evident right from the get go in brilliant opener 'Do It Now, Remember It Later' which packs one hell of a huge chorus. Very rarely can bands pull off an opening hook of "whoa-oh, whoa-oh", but SWS manage it very nicely here. This continues into the incredibly catchy 'If You Can't Hang…', whose chorus is catchier than the common cold.
Whilst upon first listen it may not seem to be as screaming oriented as their first record, there are a fair share of heavy moments, such as the impressive 'Four Corners And Two Sides' and the slightly less impressive but still enjoyable 'Tally It Up, Settle The Score', both of which forefront their progression to the use of a secondary vocalist that really makes the difference when it comes to the dynamics of these heavier songs. They also throw in a couple of huge, more emotional songs such as 'Who Are You Now?' and 'A Trophy Father's Trophy Son', the latter of which packs quite a punch itself.
When a band comes out and writes a sophomore album that is as good as this one, it is often the case that the band becomes big very quickly. With Sleeping With Sirens heading over to British shores in September to support A Skylit Drive, expect these guys to soar to astronomical heights over the next 12 months. So, as for now, let's cheers to their success and fantastic new album.
Written by Oliver Thompson
Founder & Editor for DEAD PRESS!