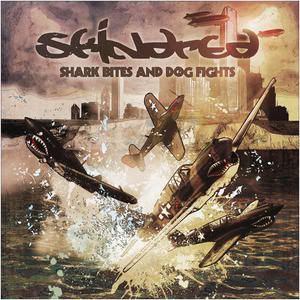 Release Date: September 21st, 2009
Label: Bieler Bros.
Website: www.skindred.com
MySpace: www.myspace.com/skindred
Rating:

They've seen some hard times in the past, but Welsh ragga-metalheads Skindred have fought through the tough vines consistently blocking their way to their goal and with 'Shark Bites And Dog Fights' they could well be onto something to place them in a stable spotlight. Their recognition and place in the spotlight has been slowly growing and well-deserved, and they're almost there now.
Giving an album a title like 'Shark Bites And Dog Fights' is very fitting, seeing as though it's pretty much advertised what you'll find within it's casing. It has plenty of bite, and plenty of fight. Though a rather original and tight sound has been the ethic right from their debut 'Babylon', it seems this time around it's finally been perfected to a point where it's almost the complete opposite of generic and cerebral.
Though with only 8-tracks this album is very short lived, it's one that makes full use of each and every track, aside from their cover of 'Electric Avenue'. It's interesting and one that they twist and mould into their own sound, but in comparison to the rest of the record it stands out as the weak and inferior one. However, in all other corners gems and treasures are to be found. 'Stand For Something' is incredibly catchy and power hungry, whereas 'Who Are You?' shows a more melodic, soulful and touching side we're not all too familiar with.
Though with their reggae influence and Jamaican influence, drawn largely by frontman Benji Webbe, Skindred are very unlike the "seriously easy going" Jamaican rum Malibu. This is every good bit of Skindred in a short-lived package, all with a cheeky cover shoved in for good measure.
Written by Zach Redrup