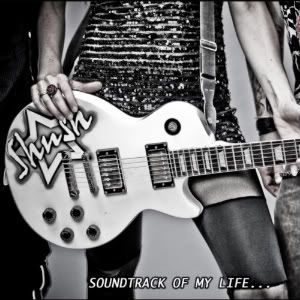 Release Date: November 1st, 2010
Label: Ruby Records
Website: www.shushsound.co.uk
MySpace: www.myspace.com/shushsound
Rating:

Shush is a 4-piece female fronted rock and roll band from London, whose sound is a combination of Green Day, Paramore and even a hint of The Ramones, and they're looking to follow in the footsteps of these bands with their debut album 'The Soundtrack Of My Life', after their 2008 EP. Mixing good old rock and roll riffs with punk grit and dark pop melodies, this debut album is a somewhat intriguing and enjoyable listen.
The opening riff of 'Do What I Want' sets the pace nicely for the rest of the album, even if the chorus does become overly repetitive. Whilst songs such as 'All My Life' and 'You Will Never Get' really embrace the punk influences of the band, before twisting and churning them out into huge rock and roll songs. The party doesn't end there though, as 'Shout' and 'You You Me Me' both boasts impressive guitar solos that seem to drift effortlessly from the dual guitarists.
Songs like 'Fuck You' and 'Miss Bunny' both feature bass lines that match the punk ethos and raw production of the album. It's debatable whether or not the band intended to produce the album to sound as raw as it is eventually turned out to be, or whether it was due to a budgeting issue. Either way, the production on songs like the two aforementioned really does hinder the album as a whole, and leaves the listener thinking that there's so much more that could be done with the band's sound given the time spent and a decent budget.
That being said, 'Soundtrack Of My Life' is not a bad release, especially for a debut album. The drumming and guitar work is impressive throughout. However, at times front woman Milena Yum's vocals often fall flat, and lack that necessary punch that's needed to make this a breath-taking album.
Written by Oliver Thompson