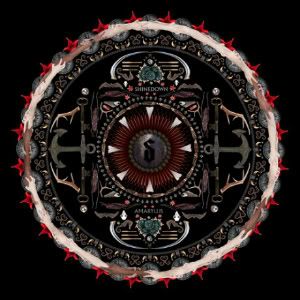 Release Date: March 26th, 2012
Label: Roadrunner Records
Website: www.shinedown.com
Facebook: www.facebook.com/shinedown
Twitter: www.twitter.com/shinedown
Rating:

Let's get one thing straight, I fucking love Shinedown. Back when I was 17, I was there on the front row at one of their shows, screaming my lungs out to 'Save Me' whilst fighting with other fans over plectrums and other crap that had been thrown into the pit. I saw them again a few years later and, although the impact wasn't quite as strong as I remembered, it was still a wonderful experience to bask in their powerful anthems. Following the immense success of 2008's 'Sound Of Madness', Shinedown have teamed up with producing legend Rob Cavallo (who gave us the likes of 'American Idiot' and 'The Black Parade') to bring us album number four, 'Amaryllis'.
Now, I have been given this album to review. It forced me to actually sit down and listen to the lyrics, and it has opened my eyes somewhat; their lyrics are written with the sole purpose of being played on the American rock radio stations, catering to the angst ridden teens and 40 year old rockers the refuse to grow up. I mean, half their fucking back-catalogue has been featured on WWE for Christ's sake! Case in point, look at the lyrics of 'Bully'; "Seems I've crossed the line again / For being nothing more than who I am / So break my bones / And throw your stones". Sure, we can all relate to this, but come on man, put some more depth to it. I blame In Flames for this, having grown up on their high quality/poetic lyrics has made me somewhat of a music snob.
As far as the album goes, it's just the same anything they have done before, just with different words and a fuck-load of money thrown at it. They got a 30-peice orchestra involved for 'Through The Ghost', which admittedly does sound pretty damn incredible. Sticking to the classic Shinedown formula, 'Amaryllis' boasts 12 well written and catchy songs that are annoyingly generic whilst at the same time connecting with you on some level, beckoning you to give in and embrace the song. With little progression from their last effort, Shinedown run risk of falling into the Linkin Park trap; churning out a string of shit albums.
For any Shinedown fans out there – get this album, you'll fucking love it. It's exactly what you want and more from the band. For those unfamiliar with the band, as far as a rock album goes, this is so middle of the road that it's practically road kill. Sure, lead singer Brent Smith has an outstanding rock voice, but that's not enough. It's hosts one or two good tracks, like 'Enemies' and 'For My Sake', but you may find the rest just annoy you. It genuinely upsets me to write this review, I used to idolise this band and I'm currently listening to their older albums. I just find it distinctly plain compared with what else it available now. Growing up gets me down.
Written by Andrew Roberts