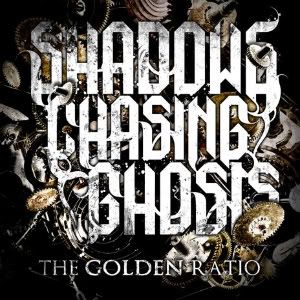 Release Date: August 2nd, 2010
Label: Small Town Records
Website: None available
MySpace: www.myspace.com/shadowschasingghosts
Rating:


On the verge of getting to that stage where they're gonna be "the next big thing", Shadow Chasing Ghosts are yet another attempt at the UK's answer to bands like Alexisonfire, Finch, Chiodos, etc. But this isn't necessarily a bad thing if you can put your own brand on it, but with debut 'The Golden Ratio' it seems that Shadows Chasing Ghosts fall just shy of the mark.
Now before this becomes mistaken for a whole "they're just jumping on the bandwagon" rant, it should be noted that even though this isn't anything new or original what they do is far from terrible. Their hooks are melodic and memorable, their riffs are distorted and as dirty as a porn star, and their songs are built for both your stereo and the live setting.
'Sunlight' is a sure standout track, and definitely the one to hear if only the one has the oppurtunity to cross the path of your ears. It's bigger than anything they've managed to create in the past, and a sure sign that they're going in the right direction. 'Girl In Sheep's Clothing' and 'The Recovery' are sludgey and hard-hitting upcoming live favourites, showing both their potential in both heavier and lighter areas in their material.
'Timelines' is an acoustic number verging on ballad, and though nowhere near the quality of acts like Craig Owens and City And Colour, their confidence in branching to other sounds and experimentation shows the effort is there.
'The Golden Ratio' is a 10-track espionage of a band trying to secure themselves in an already overcrowded genre of those who've made it and many who've been tossed to the side. Shadows Chasing Ghosts have the potential to be the former, but to avoid the latter they need to cement their sound and become a little more refreshing.
Written by Zach Redrup