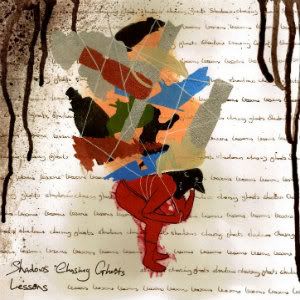 Release Date: July 16th, 2012
Label: Small Town Records
Website: www.shadowschasingghosts.com
Facebook: www.facebook.com/shadowschasingghosts
Twitter: www.twitter.com/scgmusic
Rating:


Before Memphis May Fire's offering earlier this year, it had been a long time since the standard metalcore formula had really stood out and demanded attention. It's therefore a breath of fresh air that Shadows Chasing Ghosts manage to achieve this very thing so soon after their aforementioned metalcore counterparts.
'Lessons' is a 13-track metalcore masterclass, combining the best breakdowns, the most idyllic clean vocals and just the right amount of diversity throughout. 'Splinter' is a headfirst dive into the album, reminiscent of Bury Tomorrow's newer style, laden down with ballsy, aggressive guitars and thrashing drums.
However, it's all too noticeable that the clean vocals from frontman Trey Tremain throughout 'Lessons' do seem a little bit over polished, a little too forced and perhaps take the edge off what is otherwise a flawless offering.
'Top Of The World' opens with a slightly pop-punk tinged vocal, but this style of clean vocal is much more suited to their style than the cleaner, shinier vocals they showcase earlier on in the album. The track is mixed up with some of the more passionate screams Shadows Chasing Ghosts are capable of.
'Deadly Weapon' is the clear highlight of the album, forcing sublimely guttural and harsh vocals into your ear drums. Tracks like this, along with 'The Lighthouse' ensure that listeners know the band are branching out, forming their own sound and combining the superior elements of the metalcore genre to bring a thoroughly enjoyable listen.
Fans of heavier metalcore may not take much of a liking to this album, but if you don't mind a softer approach to the genre album then make sure that you give a listen to 'Lessons'.
Written by Cheri Faulkner