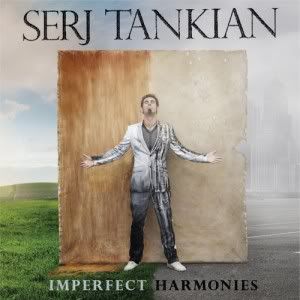 Release Date: September 21st, 2010
Label: Reprise Records
Website: www.serjtankian.com
MySpace: www.myspace.com/serjtankian
Rating:

In the eyes of many fans and critics, Serj Tankian has done nothing but disappoint since the split of System Of A Down and birth of his solo project. 'Elect The Dead' contained some solid, albeit generic songs, but all the while his solo work didn't live up to the standard he set with SOAD. That is until now. 'Imperfect Harmonies' lives up to that standard and surpasses it by a mile.
There are many reasons why 'Imperfect Harmonies' does well as an album, and one of them is innovation. Striking melodies backed by a full orchestra, piano, brass and pulsating synthesizers help to create a distinctive sound. 'Disowned Inc.' and 'Borders Are' introduce the listener to what's in store on 'Imperfect Harmonies'. Musically, much of the album would fit into a movie soundtrack, and orchestral music governs the sound at all times which creates a genuinely epic feel. 'Beatus' is the only song here that could be regarded as weak, as it features only two lines that repeat throughout the song, backed by annoying keyboards and unnecessary backing vocals.
The theme of Serj's music is once again politically charged, with topics covering everything from government corruption to genocide. While these topics have been covered at length in his own past endeavours, Tankian manages to add enough new elements and expressive panache to once again make these concepts sound urgent. The piano ballad 'Yes, It's Genocide' is a prime example, featuring vocal repetitions wholly in Armenian: "I want to die for your terror / I want to die for your fear / I want to die for your life". The lyrics are a heartfelt tribute to the 1.5 million victims of the Armenian genocide, and it's something that Serj continues to push to amplify awareness of. A portion of the song was even included in a video to Barack Obama, pleading for him to recognize the incident. Something about politically motivated lyrics from someone who is actually involved in such a tragedy packs a much harder punch than say, Green Day's comparatively juvenile motives. While these themes are ubiquitous throughout 'Imperfect Harmonies', other lyrical/relevant highlights include 'Peace Be Revenged' and 'Left Of Center'.
No one would expect Serj Tankian to craft songs that could be described as breathtaking, but he certainley has here. 'Reconstructive Demonstrations', closer 'Wings Of Summer' and virtually every other track on the album sees Serj reaching musical heights that haven't been reached in 90% of most modern albums. Not to say 'Imperfect Harmonies' is a masterpiece. Like many albums, it is regrettably marred by repetition and fusty melodies that fail to impress. Fortunately for us, most of it is excellent and also moody because of the images of stormy seas and forests of distant lands that Tankian's voice often call to mind.
Basically, 'Imperfect Harmonies' is an epic roller-coaster of an album and it's one of the most emotionally-gripping albums of the year so far. Serj Tankian has smoothly meshed symphonic music with jazz and electronics, and the result is like an impressive and unexpected gift. He will win over his doubters with this.
Written by Rhys Milsom