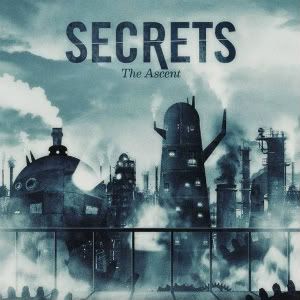 Release Date: January 17th, 2012
Label: Rise Records
Website: www.secretsofficial.com
Facebook: www.facebook.com/secretsofficial
Twitter: www.twitter.com/secretsofficial
Rating:

It proves difficult not to be cynical when listening to albums such as 'The Ascent'. On face value, all the elements necessary for success seem to be firmly in place; the danceable beatdowns, the sugary choruses et al, yet the problem remains throughout that, although what Secrets are doing is being done well, we have unfortunatley heard it all before.
As a relatively new band, it's understandable that they may not be suffiently developed to come across as anymore than just the sum of their influences, and it is true to say that their song craft, with some undeniably massive hooks, does show some glimpses of promise. Yet from here, picking out any record highlights becomes a chore as the formulaic nature of the tracks lack that spark of originality to distinguish themselves from one another.
The furious opening minute of '40 Below' is as crushing as it gets here, and a very A Day To Remember-esque 'Blindside' strikes a good melodious/heaviness balance, although it would be untrue to say that the entirety of 'The Ascent' was not interchangable. Special mention however should go to vocalist Xander Bourgeois, whose harsh vocals here are certainly impressive, with 'You Look Good In Plastic' containing some particularly enraged outpourings.
With the ever expanding glut of post-hardcore bands churning out conventional, and for the most part wholly unexciting music, it would be logical to believe that it's of paramount importance that an outfit focus on individuality and inventivness. Yet, with so many gaining prestige through uninspired scene pleasing, it seems that sticking to the formula will prevail as it promises more reward. On the evidence of 'The Ascent', nothing that Secrets are doing proves to place them as anything different, which is a shame given their apparent ability. Hopefully given time, with the injection of some imagination into the mix, they can become a much more exciting prospect.
Written by Tony Bliss