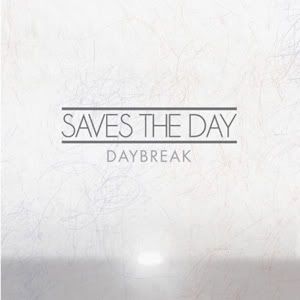 Release Date: September 13th, 2011
Label: Vagrant Records
Website: www.savestheday.com
MySpace: www.myspace.com/savestheday
Rating:


Saves The Day have been making infectious pop-rock for the last seven years, and have won themselves a huge fanbase with their familiar light-hearted and impossibly catchy vibe. 'Daybreak' is the band's seventh studio album, and is a mix of sickly sweet vocals, courtesy of the only permanent fixture of the band's original line-up vocalist Chris Conley, and pounding rock riffs, making for a truly addictive listen.
'Daybreak' is also a part of what Conley describes as a three part concept album, with earlier releases 'Sound The Alarm' and 'Under The Boards' making up the first two parts. Conley used the releases as what he calls a "therapeutic experiment" with the first of the three records, representing discontent and anger, and the second reflection and remorse, with 'Daybreak' acting as the acceptance album.
You certainly get a happier atmosphere from listening to this record. It opens with the massive ten minute track of the same name, although the first few lyrics would make you think otherwise considering they consist of losing your heart and the world being a better place without you. However, thirty seconds in and all of this is blown away by the powerful guitar work of Arun Bali, changing it from a bit of a whine-fest into a powerful rock song.
Carrying on with the love theme '1984' is a rock ballad about losing your mind over the person you're in love with. Without sounding too cliché, Saves The Day are perfect if you want to re-live your emo days of the early 00s, when you used to sit in your room getting all worked up about the girl/boy from school who doesn't pay attention to you even though you made a massive effort with your new peroxide fringe. Oh, just me then? Right, moving on.
Songs 'E' and 'Z' also hold references to love, which at this point is testing patience and is becoming a little bit of a tedious topic. Luckily, the latter makes use of a pretty chunky guitar riff throughout, so it's not a totally wimpish ordeal. The hefty guitar work features particularly well on the slightly darker 'Deranged And Desperate', but, then again, there are some slower songs demonstrating Saves The Day's ability to manipulate your emotions perfectly.
Tracks like 'U' and 'O' serenade you softly rather than crash around your ears. 'O' is the obligatory "I'm sorry" song, perfect for after a break-up if you fancy doing a bit of crying. No? Wait, just me again? Fuck. In all fairness, 'Daybreak' is an infectious rock album that's full to the brim with heartfelt lyrics, atmospheric riffs and powerful vocals making for one rollercoaster of a record.
It may be a little too whiny and emo for some people's taste, but if you pine for a record to take you back to the time of bad fringes and not knowing who was male or female then be sure to take the time and hit this band up.
Written by Steven Potter
Founder & Editor for DEAD PRESS!