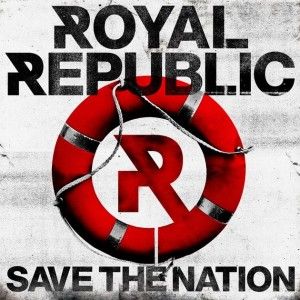 Release Date: August 24th, 2012
Label: Roadrunner Records
Website: www.royalrepublic.net
Facebook: www.facebook.com/royalrepublic
Twitter: www.twitter.com/royalrepublic
Rating:

The best way to describe Royal Republic's sound is 'garage rock 'n' roll'; catchy songs and fun lyrics; you will smile when you listen to their new album, 'Save The Nation'. They're a great band, but you will have a massive smile when you put this record on. It's just that kind of an album.
You can even tell that the band are having fun; especially with track titles like 'Make Love Not War (If You Have To Make War – Make Sure To Make Time To Make Love In Between)' and 'Everybody Wants To Be An Astronaut'. This really is the way it should be listened to, an album made to be fun and to be enjoyed.
Recent single 'Addictive' uses play on words quite frequently throughout the song. However, 'Addictive' also shows the band can make catchy serious songs; starting with a four to floor drum beat before a grooving bass line enters. Building up to an explosive entry of the main guitar riff, the track turns into a disco/garage rock hybrid. Easily the best track on the album and it's easy to see why it was chosen as the first single, acting as a great representation of the album as a whole.
Other highlights of the album include the previously mentioned 'Make Love Not War (If You Have To Make War – Make Sure To Make Time To Make Love In Between)' and title-track, 'Save The Nation'. Also, the prodcution is fantastic on this album, it's obvious that a lot of effort has went in to make this sound the best it can and it has paid off.
Surprisingly, closer 'This Means War' has a real early hardcore punk vibe (in the vein of Black Flag and Minor Threat). It fits in so well with the rest of "the Save The Nation" and catches your attention just as you think the album is about to finish.
If there was to be any drawback, it would be that it seems to be despite only being 30 minutes in length, with 13 tracks it does seem to go on a little longer. Perhaps if it was shortened by maybe two or three tracks, it would bring a better effect with each listen.
Sure, it does carry the same ideas as the band's debut, 'We Are The Royal', but it appears to be that Royal Republic have found their formula and are appearing to adapt/develop from this. Fans of The Hives and The Vines will easily get into this record; it's a very similar style, but Royal Republic make it work so well. This album is just plain old good fun and a very enjoyable listen.
Written by Kieron Chastney