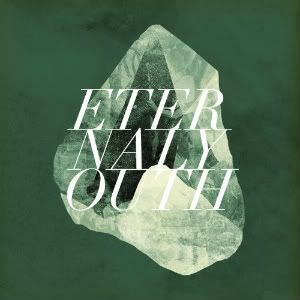 Release Date: April 16th, 2011
Label: Destination Moon
Website: None available
Facebook: www.facebook.com/rolotomassiofficial
Twitter: www.twitter.com/rolotomassiband
Rating:


Eva Spence is a devastatingly beautiful, refreshing young woman. So, the last thing you expect to hear are the excruciating pipes she's got. Undoubtedly, Rolo Tomassi have split the critics' opinions all along, with 'Party Wounds' becoming their most renowned hit. Rolo Tomassi are obviously very different, not just because there's a female vocalist screaming her organs down a mic, it's the eclectic and eccentric mix of heavy, electro and just plain chaos that left 'Eternal Youth' on the wall for us at DEAD PRESS!.
If there was a relatively rhythmic vibe through any of the album it would boost it higher and turn it into a decent listen, stand out tracks 'Jealous Bones' and 'Seagull' are two tracks that just aren't as hectic as the rest of the album. I think Rolo Tomassi had every intention to make their records hectic and just generally disorganised, and a complete and utter mess, which is why it works for them, and its grit and attitude dashed around the album is what splits the critics.
It's all well and good being a fresher sound, that's brilliant. I think the reason Rolo Tomassi aren't as big as they should be is because they're too different, 'Eternal Youth' is too hard to understand and not an easy listen, it's great. I think the Sheffield based five piece have worked well to achieve what they have, getting signed to Hassle Records and releasing a 36 track compilation album is undeniably successful, and there's a definitive audience that Rolo Tomassi are looking for.
The acoustic accompaniments of 'Nine' and 'Oh, Hello Ghost' are lovely. The raw and bare vocals of James Spence do take the album up a notch. Without the theatrics, Eva and James could be a great pairing with their vocals, but they wouldn't be Rolo Tomassi without a bit of chaos now, would they?
Written by Sian Hodkin