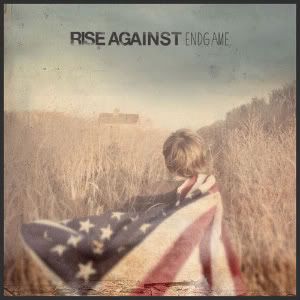 Release Date: March 14th, 2011
Label: Fat Wreck Chords
Website: www.riseagainst.com
MySpace: www.myspace.com/riseagainst
Rating:

For over ten years now, Rise Against have been spewing out angst-ridden political punk, whilst in recent times, a lot of the hardcore angst of their earlier works has been replaced in favour of big rock melodies and huge choruses. A lot of the urgency of their older work still remains and on this, their sixth studio album, though it's brought more into the foreground than perhaps on previous release, 'Appeal To Reason'.
'Architects' kicks off the album with a blistering pace. Its urgent riff and a fast paced chorus sets the tone nicely for the rest of the album, and lays the foundation for the band to pick up on throughout the remainder of the record. This leads straight into 'Help Is On The Way', which again leans towards a quicker pace with drummer Brandon Barnes keeping time nicely behind the kit. Songs like 'Disparity By Design' and 'Endgame' set a quick pace too, and create a sound that is impossible not to sit up and take note of.
In keeping with the tone of their more recent work there are some massive riffs on 'Endgame'; songs like 'Midnight Hands' and 'A Gentleman's Coup' both are proud owners of some fantastic guitar work throughout, and after a slow burning intro; the band go right on and make a racket on 'Survivor Guilt'.
As veterans of the music scene, Rise Against should know better than anyone that the key to writing an album is that it has to be memorable and has to be appeal to people. 'Endgame' lacks any major hooks, and its appeal is probably limited to whose diehard fans of the band. To listen to the album from start to finish is an almost impossible task, as the band's style and musicianship is repetitive throughout, and their stubbornness to mix in some of their older influences can be insulting at times. Songs like 'Broken Mirrors' would just be so much better if a bit of screaming was mixed in here and there. The big rock influences can also be irritating too, as 'Make It Stop' sounds like it could have been taken from either of Green Day's last two albums, such is the ridiculousness of it.
This is definitely not worth the anticipation and excitement that it has been given, it's possibly one of the worst things that Rise Against have released, although based on the quality of previous records this isn't saying much. This is only a must for those truly die hard followers of the band.
Written by Oliver Thompson