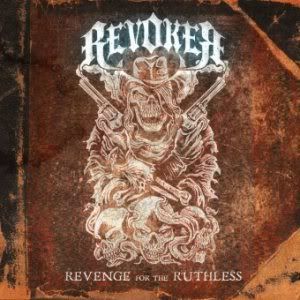 Release Date: May 2nd, 2011
Label: Roadrunner Records
Website: www.revoker.net
MySpace: www.myspace.com/revokeruk
Rating:

A revolver-swinging cowboy-skeleton with the words 'Revenge For The Ruthless' embossed underneath pretty much sets the tone for Revoker's sophomore effort; a badass, ball-busting rock-metal album with a hint of cheese from start to finish. When judged on nostalgic value, Revoker score top points; heavily reminiscent of the turn of the millennia-style hard rock that lived and died with the World Wide Wrestling Federation (that's right kids, it wasn't always WWE), it could be too easy to give Revoker a quick and sympathetic thumbs up and move along. Yet, 'Revenge For The Ruthless' isn't simply harking back to the "good ol' days", the Welsh quartet are administering CPR to this dieing genre.
'Time To Die' takes no prisoners, a ruthless opening with an industrial-feel that builds with the Alter Bridge meets Breaking Benjamin rough and gruff vocal-style of frontman Jamie Mathias. The lyrics are far from poetry, but the sentiment that Revoker are alive and kicking is made very clear. Next up is 'Stay Down', with the chorus "Just another Saturday night in my home town", this number certainly attempts to make these nerdy metalheads appear hard as nails – an attitude that comes with this particular breed of musicians. But, the aggression is faultless, and could probably replace Arnold Schwarzenegger's roids at his next gym session. Meanwhile, the hook of 'All Rise' ("I'm my own individual") edges on cringe-worthy and is a line reserved for the fourteen-year-old whose mum tries to convince them they're "special".
When Mathias isn't grunting, his vocals could draw parallels to Ian Watkins of Lostprophets, an element that certainly makes Revoker more accessible to those of a lighter persuasion. Unfortunately, the guitar-drum chemistry can be a tad two-dimensional and repetitive at times, with standard crunching rhythm-licks entangled with a formulaic metal beats. The short bridge in 'Pyschoville' provides a welcome change, and the unpredictability of 'Hate Inside' certainly presents an avenue that might be considered in future projects.
'Cold Embrace', 'The Great Pretender' and 'Nature Of The Beast' all fall by the wayside, presenting little more than everything that has been done before – not just lacking a hook, but the bait too. Yet, 'Thief', 'Not Be Moved' and 'Don't Want It' combine the most impressive elements of fellow countrymen and front-runners Bullet For My Valentine and the stateside veterans Puddle Of Mudd; thunderous and ominous guitar shreds collide with rapid metal belligerence to provide the highlights of the record.
Despite their unoriginality at times, Revoker are a proper rock-metal band. With an approach that some might argue has had its day, these valley-dwellers are putting up a big middle-finger and attempting to rekindle an old flame. The cliché lyrics can be excused, they are after all characteristic of these brash and bar-brawling anthems. Overall, 'Revenge For The Ruthless' is a decent and brave attempt from a British band at trying to recreate and revive rock-metal.
Written by Ramsey Marwan