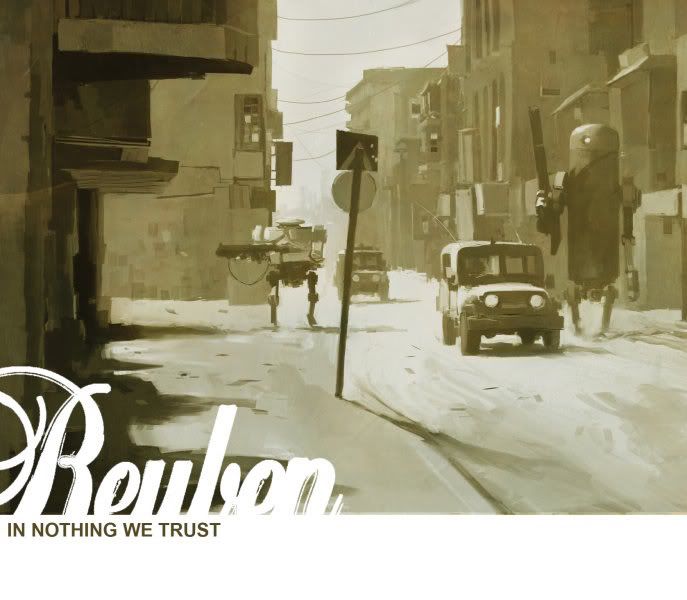 Release Date: June 25th, 2007
Label: Hideous Records
Website: www.wordsfromreuben.com
MySpace: www.myspace.com/wordsfromreuben
Rating:


'In Nothing We Trust' sees the return of British alternative rock underdogs Reuben, with this being their third full-length album since they formed their current line-up in 2001. The album is the second release from the band's new independently run label Hideous Records.The album shoots out different ideas from everywhere like a barrage attack, with a great variety of techniques rolling off their sleeves. A fair bit of the material on this album seems to be talking about topics revolving around society, history, and things much less personal to frontman Jamie Lenman than their previous work.
Album opener 'Cities On Fire' begins with a quiet and distant guitar and bass riff, silently bringing you in to listen closely, which suddenly explodes into an attack of harsh vocals and gritty guitar work and violent drums. "So play your violin / And breathe the sulphur in / Take it on the chin / As London sheds its skin" possibly referring to one of the World Wars or another military attack on London in the past. 'Suffocation Of The Soul' shows the more progressive side of the band, with sections of harmonising vocals, and others of just blatant screaming, until one section towards the end where the band are almost whispering. Definitely one of the most, if not the most varying and progressive songs on the entire album, a good piece of evidence to look at and comparewith the band's earlier work. It just shows how much they've grown and progressed over the past few years.
One of the key tracks that stands above the others is 'Good Luck', an acoustic based track where Jamie Lenman is accompanied by Hannah Clark (from the band Arthur) on vocals. It gives the impression of being a very sweet song, but lyrically it's about struggling with jobs and the troubles that come with being in a band. Chorus line "Good luck / I hope I never see you again." portraying the message in a short and sweet way. Reuben use 'Crushed Under The Weight Of The Enormous Bullshit' to show their anger towards some of today's music. With constant appraisal quotes from albums such as Nirvana's 'Nevermind' and GlassJaw's 'Worship & Tribute', against what Jamie describes as "All this 80s indie / It sound like shit to me / No, I don't like Joy Division / I don't like Morrissey." making sure that even underdogs know how to fight and bite like the rest of them.
In classic Reuben style, they end the album with one of their more experimental and inventive tracks to this date. 'A Short History Of Nearly Everything' closes the album nicely, with a range of different and varying techniques. They've got most everything in this one, a melodic backing piano line, a short acoustic section, groovy bass line, chugging buzz saw guitar riffs, soothing vocals, and a loud screaming outro to finish it all off. The lyrics tell this song like it's a story or has some kind of narrative too, "Do you remember on the way down after? / I cut my leg right open on that fence / And I cried, and I cried."
'In Nothing We Trust' has got to be a showcase of Reuben's most inventive pieces of work to date, reeling off more ideas than most bands do in their entire career. One of those underrated bands to look out for, this is one of the most experimental and creative albums released so far this year. It's been shown in the past that this band do try something new every time they release something new, and each time they seem to impress us even more than before.
Written by Zach Redrup