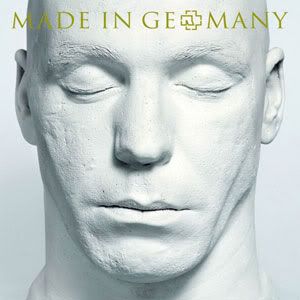 Release Date: December 2nd, 2011
Label: Universal
Website: www.rammstein.de
Facebook: www.facebook.com/rammstein
Twitter: www.twitter.com/rammsteinnews
Rating:


It's been almost seventeen years since industrial metal band Rammstein exploded onto the scene, and they have been on fire (almost literally) ever since. The most decorated metal band from Mainland Europe have a habit of making an incredible impact, with stage shows containing enough fire to cook a meal for everyone in attendance and props that wouldn't go amiss in any decent horror movie. However, the main factor about Rammstein is that they are a consistently heavy, consistently talented band, and with six full-length studios under their belt, it's about time the greatest hits were combined into one must have release for any Rammstein fan.
The best thing I can say about this album, is that if you have any interest in Rammstein, you must own this album, and for anyone who has even a passing interest in industrial metal, you must own this album. The brilliant thing about greatest hits albums is, that if a band has more than five albums, to put the best of those into one album is the perfect introduction to that band, and this has them all on it; 'Ich Will', 'Du Hast', 'Pussy', and of course 'Sonne' – probably the most well known and triumphant of them all and an absolutely perfect definition of Rammstein. There is also one new song on the album, 'Mein Land', a more synthy, punk take on the band's classic sound.
This is not one for the faint hearted, as even at their lightest, songs are laced with themes of sado-masochism, cannibalism and fetish, but for one reason or another it's almost impossible to dislike this band. This album also is Rammstein in their native tongue, fittingly as (rather surprisingly) the English translations were nowhere near as successful, even in English speaking countries.
The second disc on this album, we have sixteen very varied remixes by artists such as Faith No More, Scooter, Junkie XL and The Pet Shop Boys. Some of these remixes are worlds apart from the originals, particularly Faith No More's re-imagining of 'Du Reichst So Gut' – which gets an all round more orchestral feel. Whereas songs such as 'Sonne' (remixed by Clawfinger), just sound slightly more blunted, re-worked with a new beat, sounding a bit less symphonic than the original. Scooter's remix of 'Pussy' is quite the opposite, and anyone unfortunate enough to be familiar with Scooter would instantly recognise this collaboration. As a stand-alone this probably wouldn't work, however, this bonus disc is a welcome addition to this collection, and really does make it for a versatile take on a consistent band. A real must have for anyone with a soft spot for Rammstein.
Written by Gary Cassidy