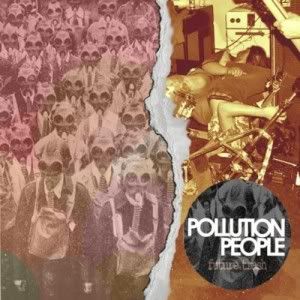 Release Date: September 13th, 2011
Label: Unsigned
Website: www.pollutionpeople.com
MySpace: None available
Rating:


Pollution People are a band people may be somewhat familiar with, containing members from Duck Duck Goose – well, basically the same band but with a name change due to legal reasons with their previous label – and taking their name from the final track of the band's album. A small "metalcore" (and I use that word loosely) band from over the pond, with a huge sound.
This release is rather chaotic at times, like most metalcore albums should be, however it's the singing elements which hit hard, delivering aggression in abundance, and the one BIG change from the Duck Duck Goose era. Songs like 'Panic Room', 'Going Ghost' and 'Army Arms' are wild, uncontainable and almost thrash metal, but fused with incredibly breath-taking guitar riffs, and unimagineably amazing vocals, which if you seen the stature of vocalist David Ribera, you might not believe that he can pack lungs capable of producing this noise into his tiny frame. Imagine Bring Me The Horizon, Led Zepellin and Destroy Rebuild Until God Shows, with the production values of a small garage band and you might be able to imagine just what this packs.
'Gnashing Of Teeth' is by far the heaviest offering, and it sounds like the band may have stolen Herman Li, Travis Barker and Matt Tuck for this offering. Such a versatile song, with a hint of synth and a drumbeat which defies almost any pre-defined time signature, if you listen to one song from 'Future Trash', it has to be this.
The one critique may be that it is a little rough around the edges, but take that away and you get the critique of "over production". This is not the finished article, but what it is is a very mature EP from the new and improved Pollution People, and hopefully we hear a lot more of them this time around.
Written by Gary Cassidy