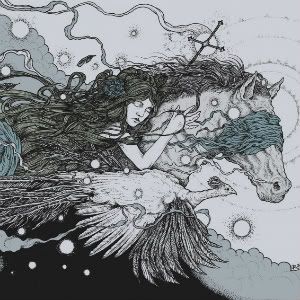 Release Date: May 7th, 2012
Label: A Wolf At Your Door Records
Website: None available
Facebook: www.facebook.com/thispolarnoise
Twitter: www.twitter.com/thispolarnoise
Rating:


After their debut release 'This Polar Noise' was set loose last year, Guildford hardcore mob POLAR. have only gone from strength to strength, supporting Young Guns on a largely sold out UK tour as well as travelling to Europe with south coast melodic specialists Heart In Hand. It's safe to say that the band's debut full-length, 'Iron Lungs', is an eagerly anticipated by the majority of hardcore fans dapping around this year and trust me when I say, it fucking delivers.
Tearing from the opening track 'K.C.M.' comes probably the gnarliest track on the record, 'Sick Old Buzzard'. Fast, gnarly, ripping and infectiously catchy with the screamed and repeated line "This is why tigers eat their young", you'll want to keep on repeating this track, but I implore you, for now, to continue on through what could already be one of the strongest releases of the year so far.
No holds barred, tanking through bangers including 'Eighteen', 'H.E.L.L.', 'Bruiser' and 'The Dead Travel Fast', this record only slows down momentarily as it enters the album's instrumental title-track. Instrumental pieces are perpetually met with scepticism and shrugging, especially nowadays in a musical world riddled with beat downs and two-step, but in true POLAR. fashion, they pull it right out of the bag by its fucking neck. The hooks are endless, and they don't stop punching you in the face and stamping on your genitals until the thirty eight minutes are up and, without sounding cliché or trivial, 'Iron Lungs' really does leave you on the edge, with that kind of 'what the fuck just happened?' expression on your face.
'Iron Lungs' really does sound huge. There's not one track on this record that lets the side down, and one of the most fantastic things about this record and POLAR. as a band is how distinctive their sound is. Each track works perfectly with the previous as well as the following, and at no point do you even feel tempted to turn 'Iron Lungs' off. Full marks, no questions asked.
Written by Luke Davis