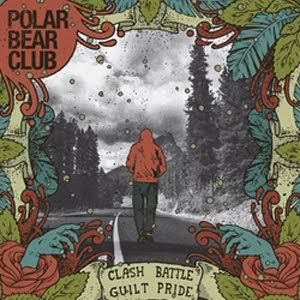 Release Date: September 13th, 2011
Label: Bridge Nine Records
Website: None available
MySpace: www.myspace.com/polarbearclub
Rating:

Polar Bear Club are a band that have been simmering for quite a while now. You hear their name thrown about in various places, however they don't have seem to have made a huge impact in the UK as of yet. Their last full-length, 'Chasing Hamburg', went down a storm and gained them many critical accolades. Having grown in popularity over the past few months, the band have played sets at Hevy Festival and even secured a support slot with the almighty Rise Against. Fortunately for the band and their fan base, their third full length 'Clash Battle Guilt Pride' is pretty impressive.
For their fans, a sense of familiarity will surround the record as it is steeped in Jimmy Stadt's emotional, but rough vocal style. There are times when it will induce goosebumps, and there are times when you will just have to sit back and admire the honesty and passion that you are listening to. Powerful opener 'Pawner' is just one of those goosebump moments, powerful, forceful yet subtlety fragile. It's a great opener and sets the bar high, songs like 'Killin' It' and 'Life Between The Lines' really live up to this standard, and sound huge. 'Religion On The Radio' is possibly the most accessible on the album, its huge riffs and big chorus simply screams anthemic punk. It is quite awe inspiring.
Again and again, track after track you cannot help but admire the power behind these songs, 'My Best Days' is nothing short of fantastic. However, in not so typical Polar Bear Club fashion, the band saves the best 'til last, as '3-4 Tango' is a solemn, but punchy effort that closes the album perfectly. If one fault can be found with the album, it is the sense of familiarity that rings throughout, as there is not much variation here, whether it is between individual tracks or other Polar Bear Club releases.
That minor point aside, 'Clash Battle Guilt Pride' is a fantastic album that effortlessly delivers the best of punk rock, post-hardcore and indie time and time again. If Polar Bear Club stick to their guns and keep producing albums that are as good as this, I think that pretty soon we will be hearing big things about them, big things indeed.
Written by Oliver Thompson