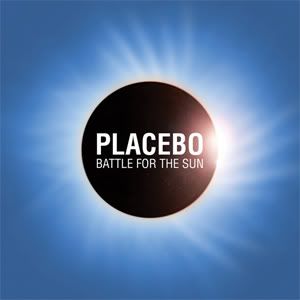 Release Date: June 8th, 2009
Label: PIAS
Website: www.placeboworld.com
MySpace: www.myspace.com/placebo
Rating:


Alt-rock mainstays Placebo return with album number six, 'Battle For The Sun'. The new record is the first to feature new drummer Steve Forrest. This is also the first to have been formulated, so say the band at least, while sober. And at times the clarity in thinking can be seen especially when compared to it's moody predecessor, 'Meds'.
Things start with some glorious pop moments, with gang shouts and clap breakdowns galore in your opening duet of 'Kitty Litter' and 'Ashtray Heart'. However, despite these poppy moments, the general theme of the album is to make things a little rougher and a little heavier than previous outings. In addition to this there is the tendency shared by many bands in this genre lately to epic things up a little with a string section, some trumpet here, some saxophone there and when used correctly, these parts really add to the overall vision of the album. There's an abundance of new influences too, with a breathiness in songs like 'Bright Lights' almost reminiscent of shoegaze pioneers My Bloody Valentine, a band Brian Molko has admitted to have been influenced by. And while young drummers can sometimes stick out like a sore thumb with bands that have an almost veteran status, Forrest's work actually gives the album an extra kick (pun partially intended).
But while there is much change in other areas of the band and their music, what hasn't changed is the focus of the lyrical content. Songs like 'Breathe Underwater' present a lyrical style that isn't over the top, but that tells a succinct story and says succinct things in a poetic rather than unnecessarily grandiose way (not to mention some cool guitar work to hook you in).
What is clear is that full attention has been given to the distinctive almost Bowie-esque at time voice of singer Brian Molko. Amidst the pop sensibilities of 'For What It's Worth' is Molko's voice almost like the figurative conductor guiding the composition around him, as pretentious as that sounds. Whether the songs are fast or slow, uplifiting or downcast Molko is the centre of attention, and rightly so as his strong voice is one of the unique selling points that make Placebo so identifiable in a marketplace of very similar bands.
What is undoubtedly this biggest difference between this album and it'd predecessor is the embracing of light as well as the dark as Molko describes it in that on this album there are moments where you feel like Placebo are winning, a lot more so than on the relatively gloomy 'Meds'. And this brightness produces a good – just running short of great – album, filled with some fantastic pop rock moments as well as the usual opportunities to lose yourself in some of the darker areas of humanity.
Written by Paul Smith