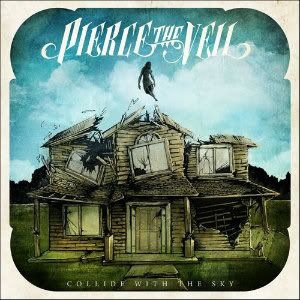 Release Date: July 16th, 2012
Label: Fearless Records
Website: www.piercetheveil.net
Facebook: www.facebook.com/piercetheveil
Twitter: www.twitter.com/piercetheveil
Rating:


Two years ago, Pierce The Veil released their second album 'Selfish Machines', which pushed them into the post-hardcore scene with many critics labelling them under the 'emo' category. The band have now come back fighting with their new album 'Collide With The Sky' which well and truly shows that emo is in fact back; not the dodgy eye covering blackened fringes or the self harming nature, merely the powerful emotional sound that mixes hardcore with melody.
A veil of ambient white noise in the form of 'May These Noises Startle You In Your Sleep' subtly opens the album, with slow guitar strumming covering the piercing distorted voice of Vic Fuentes. The track is less than ninety seconds long, but that's all it takes to get hooked through and through. This softer side of the band lulling you to come closer doesn't even last a minute before the up-tempo heavy riffs and soaring catchy choruses come into play.
First real track 'Hell Above' provides one of the edgier cuts of the album, bursting out at a pace which drives into a stomping chorus which will seem like a familiar friend after one mere listen. It'll feel like you've known this track forever. A half-hearted breakdown brings the darker side of the track into play and samples Vic's screams, a welcome addition after a track of melodic singing.
There are many tracks that would sit better under the heading of punk rock, such as 'Bulls In The Bronx' and 'Props And Mayhem', with their crashing guitar choruses, strumming verses, up-beat sung lyrics with a very small sprinkling of screams thrown in for good measure.
As if the album wasn't good enough already, it features punchy guest vocals from Kellin Quinn (Sleeping With Sirens) and man of the moment Jason Butler (letlive.), producing the extra sparkle that tips the album onto another level. 'Tangled In The Great Escape' certainly mixes the best parts of Pierce The Veil and letlive. (which is pretty much everything) and culminates in the high point of the album which is heavy, furious, chaotic and full to the brim with energy and spark.
Pierce The Veil have crafted their own sound over their previous two albums and 'Collide With The Sky' expands on this with astonishing results. The album allows the whole band to show off their technical abilities, ranging from Tony Perry breaking out a classical guitar during 'Hold On Till I May' to the crushing riffery on 'A Match Into Water'. On a whole, this album will get you fist-punching, head-banging and dancing during every listen. The band really are at the top of their game.
Written by Rhian Westbury