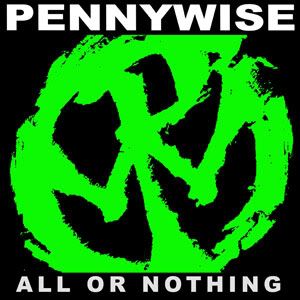 Release Date: April 30th, 2012
Label: Epitaph
Website: www.pennywisdom.com
Facebook: www.facebook.com/pennywise
Twitter: www.twitter.com/pennywise
Rating:


Hermosa Beach's punk rock specialists Pennywise are a band that has prevailed through many dramas. In 2006, bassist Jason Thirsk committed suicide during his battle with alcoholism and in 2009 their long-term vocalist Jim Lindberg quit the band, making way for Ignite frontman Zoli Teglas to take the reins in 2010. It was almost four years between 2008's 'Reason To Believe' and their new Epitaph release, 'All Or Nothing'. When bands take an elongated period of time between releases, it's often the case that fans may lose interest and become sceptical of the forthcoming record. Before listening to this record, I was hopeful that it would deliver.
Title-track 'All Or Nothing' is up first. Fast, old-school and fucking intense, this track grabs you by the throat and the metaphorical balls. Teglas' vocal style and content suits the speed and legacy of Pennywise down to the dirty ground as the record progresses into bangers like 'Revolution', with its captivating and infectious yet simple chorus, and the melodic yet haunting hook in the chorus of 'Let Us Hear Your Voice'. From the off, the listener knows what Pennywise are saying and you cannot help but devote everything to listening.
The simplicity of 'All Or Nothing' is admirable and refreshing, even from a band as well established as Pennywise. They don't feel that it's necessary to lambast their listeners with sweeping, off-time confusion and incoherent vocals; Pennywise deliver their message clearly and quickly.
'X Generation' is a track that seems to follow the general trend of 'All Or Nothing', telling us of the hypocrisy of the American government, urging those who hear the track to stand up against their 'leaders' if they have any respect for themselves whatsoever. 'We Have It All' continues in a similar vein but with more aspects of positivity throughout – the clue is in the song title.
There's not a single weak track on 'All Or Nothing', each track is a punk rock masterpiece portraying a similar message without becoming tedious or repetitive. It doesn't slow down its pace and by the end of the record, in my experience, it's impossible not to start it all over again and nod your head just as ferociously as before. There's definitely a sense of unity that is projected from 'All Or Nothing'.
Calling all fans of Black Flag, Bad Religion, Circle Jerks, Minor Threat and even fans of bands such as The Offspring, 'All Or Nothing' is an absolute must buy. You would be very foolish not to, so don't run the risk of eventually having to smash your head off your bedroom wall because your friends heard it first.
Written by Luke Davis