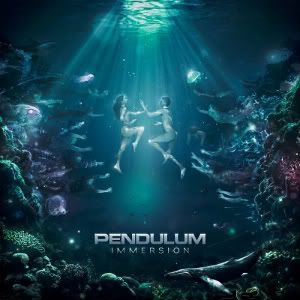 Release Date: May 24th, 2010
Label: Warner Music
Website: www.pendulum.com
MySpace: www.myspace.com/pendulum
Rating:


What the hell happened to Pendulum? Like really, what the fuck actually happened to them?! They switched from a duo DJ act, to a drum and bass band, to an overly generic, boring, and pathetic excuse for a band who for some odd reason are just someone who are customary and standard to enjoy.
Remember the now over-played tunes 'Slam', 'Blood Sugar' and 'Tarantula'? Whether you liked them or not you'd be a fool to not agree that they were all much better than their currently biggest single 'Propane Nightmares' from 2008. Previous album 'In Silico' saw them taking a far more mainstream route which didn't bode good for them at all – sales figures aside of course, and sadly they've just taken the cheese baton they picked up then to even further lengths.
Now before anymore ridicule is thrown their way, credit must be given to them for experimenting and trying to bring something new to the table after their idiotic move to the mainstream front. 'Salt In The Wounds' brings a six and a half minute "drum and bass" instrumental that hasn't really been done since their debut full-length 'Hold Your Colour'. 'Set Me On Fire' shows a terrible attempt at trying to incorporate the newly popular dubstep sound to proceedings, and the two part track of 'The Island' is an idea Pendulum weren't thought capable of.
It's still hard to understand entirely what the band are trying to do though, mixing dance and a lot of its sub-genres together with rock but churning out an ugly and incoherant mess by doing so. 'Immunize' sounds like a retarded and bitter brother of The Prodigy track 'Wolves', a group who've managed to establish and create the sound Pendulum are after but actually doing it with success and style.
'Watercolour' sounds a bit like old favourite 'Propane Nightmares', brought out of a recycle bin and messed around a bit to try and sound fresh and new. Not working. And everything else, for lack of a better way of explaining it, sounds a bit like everything else. The predictable same 4/4 drum beat in nearly every track, the cringe inducing lyrics combined with Rob Swire's over produced and auto-tuned vocals, and the unnecessary high pitched keys from Rob's keytar kind of thing as soon as a song kicks in.
With all this aside, it's what the public are loving at the moment and will undoubtedly shift shit loads of copies, which is pretty sad really.
Written by Zach Redrup