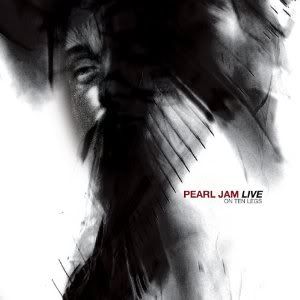 Release Date: January 17th, 2011
Label: Epic Records
Website: www.pearljam.com
MySpace: www.myspace.com/pearljam
Rating:

Pearl Jam have pretty much been a staple figure in the music industry for the last 20 years. They are without a doubt one of the biggest bands in the world. No matter who you are, you know at least one Pearl Jam song whether you'd like to admit it or not. They have albums spanning two decades, and are one of the original grunge bands. So it's a wonder why bands of this nature still feel the need to release albums like this one. 'Live On Ten Legs' is nothing but a way to increase the band's finances, and for them to see how much they can flog said release for.
One thing that it does do however is give their fans an indication of what the band is doing and how they are faring in their older age. Standard run-throughs of 'Animal' and 'Spin The Black Circle' although not amazing, show that the band still know how to rock. A spine tingling rendition of 'Just Breathe' shows that Eddie Vedder's voice has not faltered with age, but if anything, it has got slightly better.
In despite of their talent clearly still being there, one can't help but wonder whether the band have had their turn in the limelight and whether it's time to step aside and go out on a high. This is a sentiment that Vedder unknowingly addresses before the kick into all time fan favourite 'Alive', "We're still here, we ain't going yet". Well, perhaps it's time that they thought about doing so.
As an album itself, pretty much all of the singles that you know and love are here. As the band run-through songs like 'Jeremy' and 'The Fixer', it's clear that the band still know how to please their fans and put on a good show. However, it's not a memorable show, which is perhaps why this release seems ultimately pointless as the true impact and atmosphere of a live show is not quite reflected on the 18 tracks that are here.
Whilst this is not entirely bad as there are some decent songs on here, listening to the whole thing in one go may be a challenge to even the most avid fan. Which is why that this album is only really something worth buying if that's what you are, an avid fan. If you're not, then I'd suggest continuing to listen to and appreciate the band's studio recorded work instead.
Written by Oliver Thompson
Founder & Editor for DEAD PRESS! | Atheist and antitheist. | Judge of the quick & the dead since 1989.