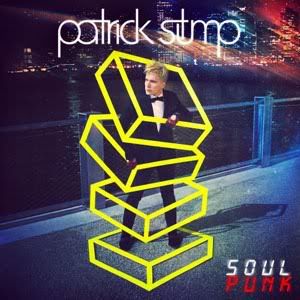 Release Date: October 17th, 2011
Label: Mercury
Website: www.patrickstump.com
MySpace: www.myspace.com/patrickstump
Rating:


When Fall Out Boy announced their hiatus back in 2009, it didn't really come as a surprise. The rumour mill had been working twice as hard, and it was no secret to the world that the band was thinking of having a break for a while. However, fans were still disappointed, as when a band "is on hiatus", more often than not the hiatus lasts until the break-up is announced. Patrick Stump has assured the fans that this will not be the case, though: "Fall Out Boy is just not planning anything right now. I would be very, very surprised if we don't do another record again".
But, as time has gone on, each member of the band has moved on to different projects, all of which have been fairly successful. Guitarist Joe Trohman and drummer Andy Hurley formed the quite brilliant supergroup, The Damned Things, alongside members of Anthrax and Every Time I Die; bassist Pete Wentz is part of an experimental/electro-pop band called Black Cards, alongside Bebe Rexha; and vocalist Patrick Stump has gone solo, which brings me onto his debut full-length: 'Soul Punk'.
From the outset with 'Explode', Stump shows the listener what they're in for. His vocals play off the dance/pop beats to great quality; his voice fits into the more laid-back synth section with aplomb and also feels right at home with the upbeat chorus. This track is a great one to start the album off, – you may find yourself listening with intrigue as to how his voice sounds so accessible (not that it wasn't with Fall Out Boy, but this is a totally different genre to what he's done before), but you'll also find yourself singing along to the catchy chorus.
'The 'I' In Lie' has a resonating synth-line and slow-paced, rhythmical drums. Stump's vocals here are top-class, as he keeps the listener in touch with the song all the way through and he manages to soar above the music, which is no mean feat considering how stand-out the music is. The song's theme, which focuses on cheating in a relationship, should be sad listening but it is in fact the total opposite.
'Bad Side Of 25' is an extremely melodic track that incorporates a robust bass, thriving keys and a frantic guitar which also ventures out into an impressive solo. The whole track is fun and Stump's smooth, mellow vocals only make the track more striking. It may be perhaps the best listen on the album, especially for those listeners who are more into the rock genre.
The tracks that have been mentioned are only part of a very strong album. There isn't an aspect here that could possibly be seen as bad music, and Stump has done well to venture into new territory and make it work. The disgruntled Fall Out Boy fans may be appeased, after all.
Written by Rhys Milsom