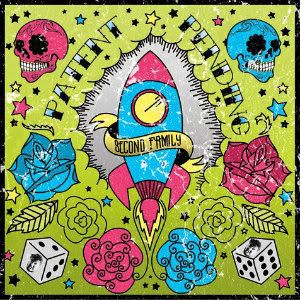 Release Date: March 19th, 2012
Label: Unsigned
Website: www.patentpendingmusic.com
Facebook: www.facebook.com/patentpendingmusic
Twitter: www.twitter.com/ptpgofficial
Rating:


Despite the name, Patent Pending are hardly inventors, but rather a Long Island six-piece with an undeniable knack for writing pop-laced punk tunes. Released in the tenth year since the band's inception, 'Second Family' has all that you'd want from a modern day pop-punk record: driving powerchords, gang vocals, A Day To Remember-esque breakdowns – it ticks all the right boxes. But don't take that as meaning it's tried, tested and tiresome. Joe Ragosta and co. do it their own way, meshing bouncing rhythms with, to borrow a phrase that dominates a young pop-punker's vocabuarly, LOL-inducing lyrics and a generous helping of pop culture references. Tongues-in-cheek, let's spin the disc.
Getting things off to a thumping start is 'I Already Know (She Don't Give A Shit About Me)', with its punchy chords and slick leads providing a base for Ragosta to vent about girls of past summers, something he does a lot on this record. The glib rhyming of countless household products (George Foreman grills, anyone?) in 'Shake Weight & Moving Crates' assures the listener that the band, for all the sincerity in their sound and overall message, aren't ones for taking things seriously when it comes to lines. 'Cut, Copy, Paste' is another title that teeny-pop-punkers may squeal at, but there's an adventurous stab at bringing everything into this song, with layer upon layer of guitars (both electric and acoustic), sampling of what sounds like Microsoft's text-to-speech voice and a dollop of 808 bass. The label 'pop-punk' is loaded with connotations of simplicity, but there really is more going on here than first meets the eye.
'We're Freakin' Out (Map To Tahiti)' is one of the few clouds in this summer's day selection of songs. It wanders into the minor key, infusing electronics that Attack Attack! might take a liking to, and a xylophone cameo that creates a mood reminiscent of Good Charlotte's questionable 'The Chronicles Of Life And Death' album. Of less questionable quality is this more earnest performance, which highlights the band's desire of gathering all sounds which are in reach. The skanking 'Set The Sun On Fire' is the definite pick of the bunch, with a chorus that is startlingly similar to the chorus of Rihanna's mega hit 'Umbrella', which, regardless of your personal tastes, is an undeniably brilliant bit of songwriting.
For all their efforts to bring together a bagful of timbres, it's a shame that this album drags in parts. Despite its initial hilarity (keep an ear out for the barber shop backing vocals and you'll understand), 'Douchebag' loses its novelty after a couple of listens. The reprise of the 'Dude, I'm Not Your Bro' coda in the bonus tracks of the album is the most joy you'll get out of an otherwise unbearably 'high-school' piece of work. 'Spin Me Around', as charming as it is, sounds out of place amongst juvenile-by-comparison tracks. It does bring about a much-needed breather in an album that is otherwise unrelenting in its pace.
The bonus tracks on 'Second Family' offer more of the same, with 'Dance 'Till We Die' encompassing both that youthful, devil may care attitude and a maturity in songwriting that isn't hinted at by the label slapped on Patent Pending. As for the album, it's good fun, but with something more for those who left their penchant for 4-chords back with their now-crumbling MySpace profiles.
Written by Ryan Williams