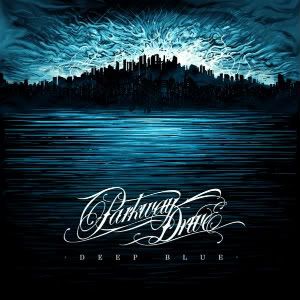 Release Date: June 28th, 2010
Label: Epitaph
Website: www.parkwaydriverock.com
MySpace: www.myspace.com/parkwaydrive
Rating:


A band that seem to have been around forever, Parkway Drive hit us with their third studio effort 'Deep Blue' a whole three years after 'Horizons', and having been heralded as one of the few bands in the metalcore genre who have their own sound it would seem crazy to change that, right? Having previously recorded with Adam D of Killswitch Engage fame, they chose this time to instead do so with Joe Barresi as they tried to reap the benefits of creating a sound more welcome to the live surroundings.
Upon the first listen of the album you can immediately notice the change in the production values, however I don't see how this is a bad thing. Opening tracks 'Samsara', 'Unrest' and 'Sleepwalkers' are just as brutal (and I hate using that word) as anything from their back-catalogue, including 'Boneyards' and 'Dead Man's Chest'. Played through a good speaker system, it becomes clear that the production is nothing short of beautiful. It is same old Parkway Drive as Jeff Ling's and Luke Kilpatrick's intricate guitar string picking, punishing breakdowns and face melting solos create each song into a masterpiece, just as everyone expects with this band.
There is not an awful lot this band can do wrong when it comes to writing music with Winston McCall's vocals probably being the best in the business, and have two amazingly talented guitar players along with an equally able bass player and drummer. The best tracks of the album are without a doubt at the beginning and end; 'Unrest' with its spine tingling "What the fuck have I become?" followed by the most mind demolishing breakdown. Other stand-out tracks come in the form of 'Pressures' and 'Home Is For The Heartless' as they lead up to 'Set To Destroy' – a perfect album ender as it mixes its brutality in equal measures with a subtleness that defines just what this band is all about.
To sum it up, 'Deep Blue' was definitely worth the three years of waiting as Parkway Drive continues their meteoric rise in the minds of metal and hardcore fans alike.
Written by Dom Wyatt