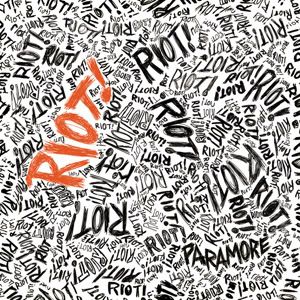 Release Date: June 25th, 2007
Label: Fueled By Ramen
Website: www.paramore.net
MySpace: www.myspace.com/paramore
Rating:

Paramore have taken their old routine and formula, stuck it in a container, shaken it about a bit, and added a few more bits and pieces. When they spilled the contents back onto the table, they came out with second album 'RIOT!'. They have again created a successful album, filled to the brim with cheery pop songs that make you want to jump off your sofa, grab a hairbrush, and sing along.
The band have grown and improved from debut album 'All We Know Is Falling', and have decided to push their talents up to the next level. 'For A Pessimist, I'm Pretty Optimistic' opens the album perfectly, it shoots open with cherry guitar riffs, and Hayley Williams' vocals are as splendid and clear as ever. The track provides a bit of variety with both loud and quiet sections, so when the song jumps back in you jump along with it.
Recent chart-stomping release 'Misery Business' is a piece of catchy pop-punk, which brings an melodic song together with angst ridden lyrics. The chorus gets stuck in your head like a blob of chewing gum on a bus chair gets stuck on your best pair of jeans. "It was never my intention to brag / to steal it all away from you now / But God, does it feel so good" reveals Hayley's dark sinister side.
Paramore show they're not afraid to experiment and try new things. 'Let The Flames Begin' starts with a soft melody, before Hayley's vocals join to add a whole new element to the track and the loud chorus kicks in: "This is how we dance when / When they try to take us down / This is how we'll sing." Lyrics we're sure many teenagers can identify with.
'RIOT!' is definitley evidence that Paramore have expanded on their skills, and they know how to do what they do very well. At such a young age, this can't be a bad sign for the teenage American four-piece.
Written by Zach Redrup