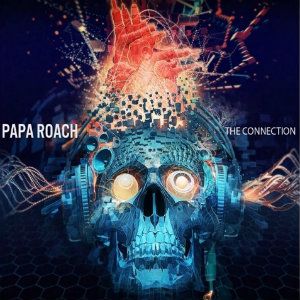 Release Date: October 1st, 2012
Label: Eleven Seven Music
Website: www.paparoach.com
Facebook: www.facebook.com/paparoach
Twitter: www.twitter.com/paparoach
Rating:

With managing to shake off the all too often terminal 'nu-metal' tag, Papa Roach are band which, seperate from the likes of other survivors as Slipknot and System Of A Down, skirted dangerously close to shamelessly bandwagon-hopping to keep in the game. From baggy trousers to eye liner and skinny jeans seemed an all too easy leap for the band, yet the delivery of some accompanying radio friendly bangers saw an ever widening audience who, with tunes this huge, seemingly couldn't care less about the band's origins. On the evidence of 'The Connection', it's easy to see why.
'The Connection' maintains the Californians' approach of exploring and expanding their sound somewhat, but more often than not the album acts as a amalgamation of everything that has come before. Lead single 'Still Swinging' is a rolickingly up tempo number, brimming with modern bounce and swagger (and even, lo and behold, a dubstep breakdown), whilst the rap flow of 'Won't Up Let' and a particular aggressive 'Not So Beautiful' hark back to the bands more hip hop inflected roots. Although, with both containing chorus hooks so big, they're able to contend with anything in the Papa Roach catalogue.
Indeed, even with these dynamics ebbing and flowing, what really hits home with 'The Connection' is just the relentless energy and really rather remarkable infectiousness. Whilst some lacklustre lyrics may spoil proceedings for some, in the towering melodies present, whether the fist pumping stomp of 'Where Did The Angels Go' or the slow burning orchestration of 'Before I Die', there's a undeniably sincere and welcomly powerful vocal display which makes the tracks as endearing as they are memorable.
Although we may question Papa Roach's principals with the evolution of their craft, it really is testament to their talents that, even eight albums in, they can perhaps even surpass what is perceived to be their untouchably classic early material. 'The Connection' is a lesson in state of the art rock music which sees these soon to be veterans honed to their slick, vivacious best. Great stuff.
Written by Tony Bliss
Founder & Editor for DEAD PRESS!