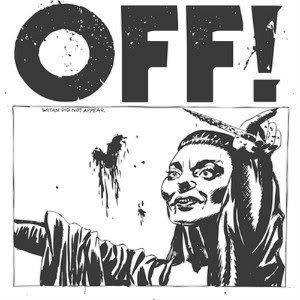 Release Date: May 14th, 2012
Label: Banquet Records
Website: www.offofficial.com
Facebook: www.facebook.com/offband
Twitter: www.twitter.com/offofficial
Rating:


Delivering the exact snarling hardcore that they displayed on their previous release, 'First Four EPs', California punks OFF! return with another collection of songs to kick you in the head. This album is a non-stop thrashing ride through 16 songs in just under 16 minutes. This is the musical equivalent of snorting lines of amphetamine while sat underneath a derelict pier on a Californian beach.
Led by the legendary ex-Black Flag and Circle Jerks frontman Keith Morris, OFF! replicate a sound that exploded in the 1980s and in turn set hardcore on its spiraling journey into punk subculture.
Every track on this album is fired out at the listener without any restraint. Although it's cliched, it sounds as if the band could literally tear themselves apart at any given second. The tumbling, twisting riff that ends 'Borrow And Bomb' sees the band entwine their separate duties into one sonic cacophony of punk rock intensity.
This album won't be to every-bodies taste; the songs are short and raw, exactly how you would expect them, but unfortunately this may put a few first time listeners off. On the flip side to this, the raw feel to this record will attract many fans who never got the chance to experience the first wave of US hardcore. This album goes a long way to provide a similar experience for a younger generation.
A great feature about this album is one for the hardcore purists, the album artwork is done by the legendary Raymond Pettibon who was responsible for some of the most famous art work in hardcore. He's the man behind the majority of the wonderfully twisted Black Flag artwork, a true nod to the old school from OFF!.
OFF!'s self-titled effort is one that should be listened to by anybody who is a fan of no frills, honest to the core anthemic hardcore. Keith Morris puts his stamp of authority over this record and there is no fighting it. A highly recommended listen.
Written by Josh Peett