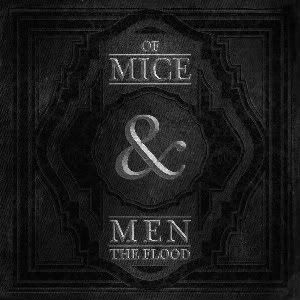 Release Date: June 14th, 2011
Label: Rise Records
Website: None available
MySpace: www.myspace.com/ofmice
Rating:

Whether or not you're a fan of Of Mice & Men there is no doubting that they will have been on your radar over the past twelve months. The band, in particular front man Austin Carlile, has been at the centre of many online feuds, most recently regarding the dismissal of Carlile's original replacement Jerry Roush. Having appeared to pull themselves back together enough to release their sophomore album, 'The Flood', the question on everyone's lips is; can the band come back with an album that is as good as their debut self-titled effort?
Upon first listen, 'The Flood' is a big, ferocious record that ticks all the boxes in terms of metalcore clichés. There is an abundance of earth shattering breakdowns, off killer riffs and clean cut choruses, but is it all too similar to everything that has been done before? There are some stand-out tracks like the rattling 'O.G. Loko' and the sing a long worthy 'Purified', which are almost up to the standard that their first album met. 'Ohioisonfire' also shows some innovation and has enough redeeming qualities to go on the list of good songs. However, this is where the festivities end.
Metalcore in theory is supposed to be one of the most dynamic, interesting genres going, the switch between harsh vocals to refreshing clean vocals when done well can be something to really admire. However, when it is not done well it comes across as a little bit of shambles. Not only does 'The Flood' come across as a mess, it also comes out as one of the most dull, generic albums released over the past few years. Time and time again, the band's formula of bass heavy breakdowns piled on top of one another becomes frustrating to listen to. Songs like 'Still YDG'n' and 'Ben Threw' could easily be any song on the album in terms of similarity, and they are as unmemorable as they are heavy.
Also, when the band attempt to slow things down on the horrible 'My Understandings' they come across as a bit desperate to try something different. Another problem that plagues the band throughout is the occasionally unrecognizable vocals of Carlile. Whilst his impressive vocal range packs quite a punch, many of his lyrics get lost in translation which makes it even harder to connect with the song in question.
If you like big, bland metalcore in the vein of Asking Alexandria and The Devil Wears Prada then this may definitely be the album for you. If you like a bit more substance to your music, then I definitely suggest you look elsewhere, as there is nothing pretty or clever about the gritty metalcore that Of Mice & Men are spewing out here.
Written by Oliver Thompson