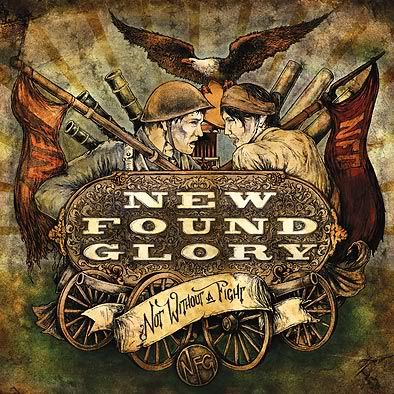 Release Date: March 9th, 2009
Label: Epitaph
Website: www.newfoundglory.com
MySpace: www.myspace.com/newfoundglory
Rating:


Long-playing veterans in the whole pop-punk game and at times considered the grandfathers of the genre, New Found Glory are still at it with their new full-length installment 'Not Without A Fight'. They've done albums dedicated solely to covers of songs from movie soundtracks, and a hardcore punk alter-ego outfit, so surely it's a good thing to know that they're back on track as per usual now.
With this in mind, 'Right Where We Left Off' is a very fitting title to open the record, a slice of pop-punk that's both fun and enjoyable, yet carried with a serious undertone – something these boys are more than qualified in pulling-off. 'Don't Let Her Pull You Down' and 'I'll Never Love Again' assures us that the classic gang shouts are present as per usual too, carried along with the technical yet digestable guitar riffs working around the fret board. Tracks like 'Tangled Up' and '47' deliver the band's somewhat trademark infectiously catchy chorus lines, commandeered by vocalist Jordan Pundik's memorable and sing-a-long essenced voice-work. 'Such A Mess', with a chugging and heavy offering of punk, at times brushing against hardcore, yet still remaining melodic and accessible, and the repeated lyrics "Pull myself together, and let it out" could potentially getting caught in a loop around your head. At times though, it does seem like perhaps the album is a little lacking in variation, and not too far of a step away from past albums, a little too comfortable in safe territory; 'I'll Never Love Again' having similarities to one of their past popular singles, 'All Downhill From Here'. The strongest moment of the record is definitely 'Heartless At Best' – complete with a short yet rare guitar solo interlude, heartfelt lyrics, memorable sing-a-long sections, and properties that could well have you playing this track over and over again, this track has everything in it that makes a New Found Glory song good.
New Found Glory have definitely returned to their old roots again with 'Not Without A Fight'. If the recent past of the band wasn't a factor, then the lack of variation and experimentation could be seen as a flaw. But, after technically an extremely overdue absence of original material, and the highly experimental but mature nature of the latest studio album 'Coming Home', it's refreshing to know they've not gone away from what they're loved and respected for.
Written by Zach Redrup