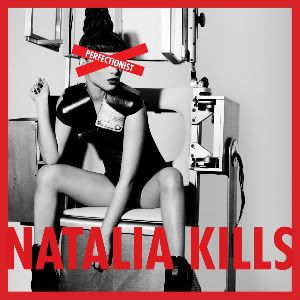 Release Date: September 19th, 2011
Label: Interscope
Website: www.nataliakills.com
MySpace: www.myspace.com/nataliakills
Rating:

Natalia Kills (real name Natalia Keery-Fisher) is a woman of many talents. In her short career, she has not only made forays into music, but also acting and directing. She is clearly a diverse and interesting character, but the question is whether her sporadic nature transfers well in her music, or if it has an adverse effect on the style and tone of 'Perfectionist'.
Well, it's safe to say that, stylistically, the album is inconsistent. There's some variety over the fifteen tracks, but very little to unite them under a distinctive banner all of Natalia's own. The opening tracks 'Wonderland' and 'Free' are unspectacular examples of tech-tinged pop, and the appearance of will.i.am on the latter is bland and uninspired. It is a phoned-in opening that hinders 'Perfectionist' from the moment it begins. Luckily, the quirky chorus of 'Kill My Boyfriend' injects some fun into proceedings, sounding like Britney at her most hammy, while 'Zombie' pops with an interesting musical mix and tight structuring. 'Love Is Suicide' is just as good, flickering with techno keys and a heavy bass.
However, these are the rare moments in which Natalia Kills truly realises her own sound on 'Perfectionist'. The tracks that follow feel more like an amalgamation of other artists, off-cuts of more established acts like Lady Gaga and Jessie J. 'Mirrors' feels washed out and unfinished, while 'Acid Annie', the roughest track on the album which is positively begging for more refinement lyrically and melodically, shoots for Gaga-esque weirdness but is far too heavy-handed. Natalia's vocal performance suffers in the same way as the instrumental elements; though she is trying to do something interesting, the effect is ultimately underwhelming. Vocally there isn't a standout moment over the hour or music, and that is truly disappointing.
The album ends much in the same way that it began. Whereas the middle section of 'Perfectionist' had some engaging and infectious tech-pop tracks with real personality, both the opening and the closing gradually blend in to a lacklustre mess. It's a shame. As a person and a brand, Natalia Kills sounds like an intriguing proposition, an individual who should be capable of making much better music than this. 'Perfectionist' is a tough album to recommend. The high points of 'Zombie' and 'Love Is Suicide' show true promise, but they are surrounded by and mired in a tiresome sound that has been done far better before by other artists.
Written by Grant Bailey