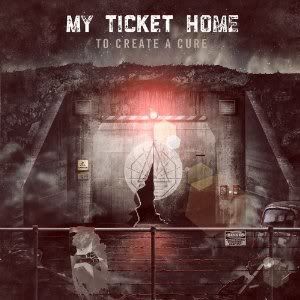 Release Date: January 31st, 2012
Label: Rise Records
Website: www.mytickethomeband.com
Facebook: www.facebook.com/mytickethome
Twitter: www.twitter.com/mytickethome
Rating:

The general post-harcore/metalcore scene as time goes on just seems to be continuously flooded over and over with band after band with little character between one another. My Ticket Home is yet another splash of cliche mediocrity against the banks of the scene and that area of the music industry, at least that's as much as debut full-length 'To Create A Cure' leads us to believe of them.
It's true that cliche and genre stereotypes aren't always a bad thing, as when done right can still result in an album well deserving of its place of accolades against its peers. 'To Create A Cure' just doens't offer very much new or interesting to draw your attention more towards My Ticket Home than anyone else already doing a similar kind of thing.
Nick Giumenti's vocals literally screams of an uncanny similarity to that of Attack Attack!'s frontman Caleb Shomo, who strangely also mixed and produced the album. At times ferocious and intimidating, notably in 'Motion Sickness' and opener 'A New Breed', but for the most part it soon becomes a bit stale and even at times sounds incredibly forced. The clean hooks from guitarist Derek Blevins sinks in the choruses to latch the listener in for a moment, and his moment to truly shine in 'The Truth Changes If We Both Lie' is one worth experiencing if you give this record a go.
Closer 'Fear Complex' may be the album's strongest moment, delivering the final blow that should've been shared out throughout the record instead of leaving us in dull suspense. If 'To Create A Cure' were to have possessed at least half the exhiliration captured within the few seconds ahead of 3 minutes this track lasts for, these guys would've created a stronger and more mentionable record.
Who knows? Album number two may blow this full-length out of the water, Attack Attack! managed to truly outshine their earlier work recently. For now however, only time will tell.
Written by Zach Redrup
Founder & Editor for DEAD PRESS!