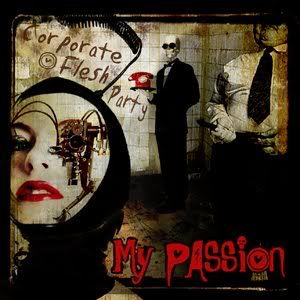 Release Date: May 25th, 2009
Label: Mascot
Website: www.mypassion.co.uk
MySpace: www.myspace.com/mypassion
Rating:

My Passion are a dance punk quartet hailing from Southern England, who formed in 2005 after the demise of their previous band: a Glam Rock outfit named Shard. The hype around this band has grown in significance over the last few years, with the band being named as one of the acts for the Kerrang! Relentless Energy Tour 2010. Things seem to only be getting bigger and better for this lot.
The record launches straight in with an attack on the ears in the form of 'Crazy & Me', with Laurence Rene and John Be providing exciting, fast paced guitar riffs that get the adrenaline pumping and give the promise of more to come throughout the record. Rene's vocals are obviously heavily influenced from his Glam Rock past, however despite this definite edge they have on them; they still manage to provide a rather haunting and lilting accompaniment to the heavier instruments. The more subdued beginning to 'Play Dirty', the second track on the album is surprising; as I found myself expecting a less obvious transition into an equally upbeat second track like on so many records of this same genre. Instead, the opening bars feature the haunting, melodic lyrics "Let's play dirty in the sand / Leave the body, take the hand / Fingerprint me in your life / I could kill my perfect wife".
As the album progressed, I began to note they reminded me rather a lot of another band, and it wasn't until the album had almost ended that I realised just who they reminded me of – My Chemical Romance. Whether you're a lover or hater of MCR do not be put off by this album or band, as alike to MCR I believe this band are destined for great things and I think we'll be hearing a lot from them within the next few years.
Tracks of note to listen to are definitely 'Crazy & Me', 'Play Dirty', 'Winter For Lovers' and 'The Fabulous Blood Disco' – a re-recorded version of one of their earlier songs, the lyrics of which feature heavily on the band's merchandise, and is also how Rene himself describes experiencing the band performing live.
Overall this is a very well produced album, with several stand out songs and absolutely none that I would suggest you stay away from. This band may not be to everybody's taste, but I do suggest that you at least give them the time of day. You may be pleasantly surprised, I know I definitely was.
Written by Lucy-Jayne Love
Founder & Editor for DEAD PRESS!