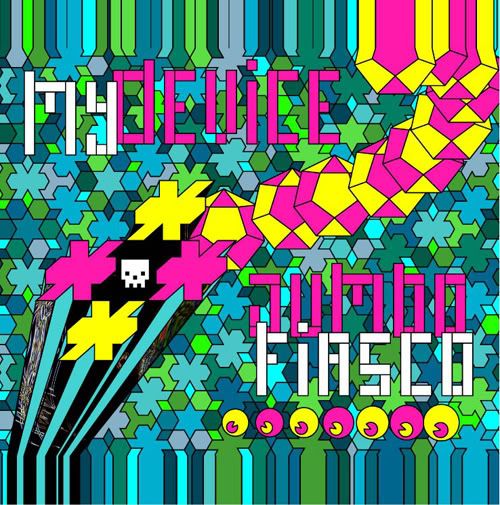 Release Date: November 5th, 2007
Label: Shifty Disco
Website: www.my-device.co.uk
MySpace: www.myspace.com/mydevice
Rating:


From Brighton UK comes a band which you'll have probably never even heard of, My Device. The trouble is there's a good reason they're not popular enough to be known by a wider group of people, and 'Jumbo Fiasco' isn't too far from a joke of an album. Their genre of pop-punk with a dance beat thrown in here and there could really get them somewhere, but they're just not getting it right at all.
Album opener 'Uh!' pretty much sums up how the rest of the record sounds and is delivered, and that's very poor. Though the repeated chorus line "This is the song!" is a catchy one that will get stuck in your head for a short while, the track just doesn't entertain. This same routine is repeated throughout almost the entirety of 'Jumbo Fiasco', especially within 'Super Tonio!'.
It seems they're also trying to be a bit comedic in their work, and this is also one of their flaws. Their attempts to crack a laugh, or even a smile upon their listeners is more or less a failed one, and is in some parts cringe worthy. Shouting "Arriba!" and other random words which have little if any relevance the rest of the song in a shot to get a few laughs isn't the best way to go about things for even some of the biggest bands, never mind one of My Device's musical status.
A rare stand-out moment of the album is 'Slamming Doors', where the band actually have something which is worth listening to more than once in your lifetime. In those 3 minutes and 45 seconds of music My Device manage to develop material which has the potential to please those who are a fan of the pop-punk/experimental category this band place themselves into.
'Jumbo Fiasco' isn't really much to look forward to, and in some places is a mockery upon the face of music. Harsh words perhaps, but My Device need to work a little harder if they hope to achieve anything more within their musical career. The moments where they try to get a laugh are poor, and if you're going to laugh at anything it'll be the quality of the material.
Written by Zach Redrup