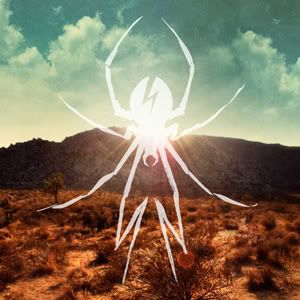 Release Date: November 22nd, 2010
Label: Reprise Records
Website: www.mychemicalromance.com
MySpace: www.myspace.com/mychemicalromance
Rating:

My Chemical Romance are back and not in black. After four years, the band wipe off their make-up and return with their fourth album, revealing themselves as the world dominating pop group they were always destined to be pre-wet wipes. 'Danger Days…' is a loose concept album, presenting the band as outlaws "The Killjoys" racing across a futuristic wasteland trying to stop an evil corporation, and it's the sound of a having a party with impending destruction! It blends racing rock and roll with doomed lyrics as the opening track 'Na Na Na' demonstrates "Make no apology / it's death or victory".
The album overall is very exciting, bleeding energy from the start 'til its very last breath. The album includes many highlights, namely 'S/C/A/R/E/C/R/O/W', an anthem in the waiting that's built for stadiums. 'Save Yourself, I'll Hold Them Back' captures the spirit of the album perfectly with its us against the world lyrics and rock 'n' roll rollercoaster of a track. The main song of the album to hear is 'Vampire Money', a massive fuck you to the Twilight franchise and vampire/emo culture of the moment. Another added bonus comes in the form of Dr. Death Defy, similar to the narrator in the cult classic film 'The Warriors'. He is heard via radio transmissions at different parts throughout the album, as the narrator guiding you through The Killjoys' struggle to stop the evil.
With references to The Stooges, Ramones and MC5 and lasting only an hour, this is a different My Chemical Romance musically, but it won't disappoint their loyal fan. The heart of My Chemical Romance is still present and beating hard, it's just this time around their heart is definitely on their sleeves as they drive into armageddon. Get in the car, don't look back, turn on the tunes and get ready to take this explosion ride.
Written by Ali Pritchard