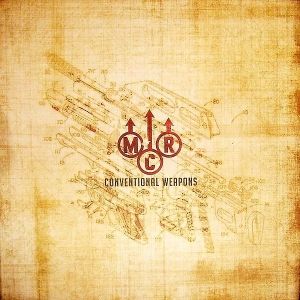 Release Date: February 5th, 2013
Label: Reprise Records
Website: www.mychemicalromance.com
Facebook: www.facebook.com/mychemicalromance
Twitter: www.twitter.com/mcrofficial
Rating:

Over the course of the last 6 months or so, My Chemical Romance have been sporadically releasing installments of 'Conventional Weapons', the tracks that were originally canned in favour of their last studio album, 'Danger Days: The True Lives Of The Fabulous Killjoys'. The first thing that comes to mind is, why?
Before there's any confusion in context: no, not why have they bothered to release these tracks. They're brilliant (more on that later). The question is, why were they canned in favour of the half baked, consistently underwhelming mess that was their previous offering in the first place?
Where 'Danger Days…' was almost unidentifiable, the tracks on 'Conventional Weapons' feel wonderfully familiar. Where 'Danger Days…' felt like a forced attempt at a concept album from a band who had seen success with one in the past, 'Conventional Weapons' feels like a band who have got together and just written a collection of great songs.
It's the idea that the tracks here sound like like complete songs, as opposed to unmatched pieces of a jigsaw puzzle that some impatient toddler has broken pieces off of to make fit. There's no post-apocalyptic cyber punk narrative here, just ten solid tracks that sound like My Chemical Romance once again. This is where the band originally went when they started writing again after 2006's 'The Black Parade' and, musically, that makes complete sense.
The tracks themselves are exactly what MCR were originally claiming they were next releasing would sound like; they're fun, adventurous and catchy as hell. But, most importantly, they sound like the band we know and love. Yes, it's still a departure from the previous sound, but in a welcome way. The guitar work still sounds like that of Ray Toro and Frank Iero, Gerard Way's melodramatised vocal delivery is as ludicrously over the top as we love it to be and the band just sound like they're playing music they believe in again.
The highlight of the whole affair is probably 'Surrender The Night', which showcases exactly what has been mentioned above, with tense verses, an absolutely massive chorus and, melodically, there are even shades of 'The Ghost Of You' present. Put that track out as the lead single after 'The Black Parade' and you'd have one hell of a hit on your hands.
In short, this is everything a MCR fan would've clamoured for after 'The Black Parade' and the fact that the material on offer here wasn't given the studio album treatment is an absolute travesty. Here's hoping the very release of this is an admission of their mistake and that they've seen the error of their ways. At the risk of sounding like a mother whose child just came home after claiming to have run away, it's good to have you back, guys. Just promise not to do that to us ever again.
Written by Ryan De Freitas
Founder & Editor for DEAD PRESS!