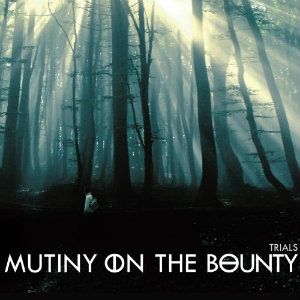 Release Date: September 3rd, 2012
Label: Best Before Records
Website: www.motb.net
Facebook: www.facebook.com/mutinyonthebounty
Twitter: www.twitter.com/m_o_t_b
Rating:

Having being compared to bands such as The Fall Of Troy and At The Drive-In, Luxembourg's Mutiny On The Bounty have quite a lot to live up to with this follow-up release, 'Trials'. Opening with an almost techno sounding intro going by the name of , the listener can hear a tease of what is to come in the background of the ringing notes before 'North Korea' kicks in.
Frantic-as-fuck and relentless to begin with before the music mellows out slightly into a much more melodic, driven dynamic. The track reverts back to its former distressed state upon its conclusion and the solely instrumental piece definitely 'sets the scene' for what could be an extremely refreshing, alternative and, more importantly, interesting record.
'Artifacts' is a brilliant mathrock-esque piece, laced with lashings of Refused-style punk as the record continues into the desperate, pleading 'Modern Day Robbery' and the beautifully melodic . Across both tracks, vocalist Pzey proves that with the ability to be able to regurgitate hard-hitting, raw vocals comes the equal skill to sing in a gentle, almost dulcet tone.
Mutiny On The Bounty seem to have a penchant for the occasional instrumental and 'Myanmar' slowly leads the listener towards the fantastically constructed 'Fiction'. 'Stop-starty', intriguing and addictive, Mutiny On The Bounty seem to have mastered the skill of keeping the ears of a listener firmly spread like a whores legs. Simply rad.
'For The Men Who Had Everything' is technically confusing, rhythmically brilliant and vocally hooking as it dives into 'Shifting Paradigms', in which the vocal style and range is slightly reminiscent of bands such as Biffy Clyro and Exit Ten. The heavy edge is only complimented by the melody in the vocals, making something that may have been difficult to listen to by some a lot more friendly and inviting without being drab and tiresome.
The almost gothic sounding 'Mapping The Universe' closes what is without a doubt, a brilliant, fresh record filled with variation, musical diversity and exploration and without being boring, opportunities for learning. I, for one, have heard nothing like 'Trials' before and it only proves that music of this genre can only be performed and executed with such ferocity and precision by those who are truely top-bollock at it. Buy 'Trials', right away.
Written by L.E.D.