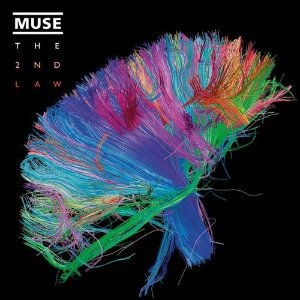 Release Date: September 28th, 2012
Label: Warner Bros. Records
Website: www.muse.mu
Facebook: www.facebook.com/muse
Twitter: www.twitter.com/muse
Rating:


Always purveyors of the theatrical and the overblown, it's fair too say that Muse have, throughout their career, consistently upped the stakes in experimentation. From the guitar led pyrotechnics of their earlier work to 2009's rather bombastic endevour, 'The Resistance', as the probing explorations of sonic possibilities continue, there grows a lingering fear that Muse are inenvitably set to soon cross the line into absurdity. 'The 2nd Law' flirts dangerously near to realising this concern.
The prevailing issue here is that the album is just so confusingly uncohesive. Constantly shifting gears and with so many seemingly disentangled genre traits shoe-horned in, 'The 2nd Law' suffers from a lack of identity and a certain structural know-how which is vital for a record of such ambitious intentions. Even from the get go, opener 'Supremacy' bombards us with a glut of studio trickery and attempts at dramtic flair that things are all too overwhelmingly slap dash for us to get a grasp on the track.
'Panic Station' is enjoyable enough with its Queen-esque strut, 'Liquid State' leans on some ethereal space rock cliches, and 'Survival' has a go at lofty progressive dynamics. From here, we quickly become to realise that 'The 2nd Law' seems to point towards a band suffering from somewhat of an identity crisis. The dub step drops of 'Unsustainable' do much to cement this idea.
What is interesting, however, is how Muse have offset these more ecclectic offerings with a smattering of songs which are startlingly in there unforgivable blandness. 'Madness' is a dull slow burner which plods towards a rather more grand, yet still anti-climatic, conclusion. Closer 'Isolated System' is all unremarkable string swells and piano tinkering, but the main offender in the tedium stakes has to be the utterly redundant 'Prelude', which serves no other purpose than to inject some faux classical pomp into proceedings.
'The 2nd Law' is certainly not without its merits, but what it is is an undeinably cluttered and disconcerting release. Coming across as an attempt to execute as many musical flavours as they can, the album shows us not so much a band exploring their craft as trying to sate a range of audiences no one outfit can possibly hope to span. What's more, the songs for the most part just are not up to par, and it looks as though Muse could benefit from a perhaps more back to basics outlook.
Written by Tony Bliss