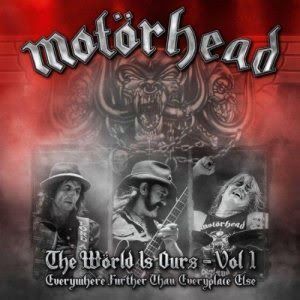 Release Date: November 14th, 2011
Label: Motörhead Music/UDR
Website: www.imotorhead.com
Facebook: www.facebook.com/motorhead
Twitter: www.twitter.com/mymotorhead
Rating:

When it comes to bands with a reputation for getting the job done live, there are almost none more established than Motörhead. Cropping up on seemingly every festival bill as summer rolls around, the veteran rockers are a reliable booking in turning in a satisfying performance. And so, to be honest, most fans will know exactly what to expect from 'The World Is Ours – Vol 1', recorded live from Santiago, New York and Manchester, as the band expectedly deliver their conventional, solid live show.
Which is why we have a certain paradox here. On the one hand, the release stands as an enjoyable example of what a great band Motörhead still are, rattling through such timeless classics as the raucous swagger of 'Overkill', the mid tempo, solo drenched 'Killed By Death' and of course a barn-storming 'Ace Spades'. The sound is unsurprisingly impeccable, and with so many years on the road under their collective belts, we are treated with a weathered outfit on top form.
Yet, unfortunatley, with little more than run throughs of accepted rock standards, it's difficult to find the overall merit of this album beyond providing hardened fans with another item for the collection. Indeed, with Motörhead appearing so frequently on the touring circuit, one has to wonder why another live release was really necessary, aside from an uninspired attempt to cash in on the band's 30th aniversary. Looking at things in this perpective, a live album at this point in the band's career just seems a bit redundant.
For devotees of Lemmy and co., 'The World Is Ours – Vol 1' may be an essential release. For anyone else, it may be worth a passing listen, yet it's unlikley to inspire in anyone a new or reinvigored passion for the band. What we have here is simply Motörhead doing what Motörhead do best, although it would be a far better use for you're money to buy a ticket to a live show than spending it on this album.
Written by Tony Bliss